Student Research Groups
---
Student Presentation & Webinar- Democratic Backsliding: What It Means for American and the World
Electoral Violence Study Group
The Democracy and Governance Program was excited to expand our research group offerings in 2016 and offer students the opportunity to conduct research on electoral violence and present their findings to the U.S. Department of State's Bureau of Conflict and Stabilization Operations. Working with Dr. Patrick Quirk, students performed assessments of the risk for violence surrounding upcoming elections around the world and developed policy recommendations for preventing or mitigating identified risks.
Through their work on this important topic, students developed expertise in the main analytic methodologies utilized by the U.S. Government and others for assessing electoral violence. They crafted original reports tailored for policymakers in this area and delivered oral briefings at the State Department on their findings. In addition to producing valuable analysis for those in the field, students further developed their own professional skills and gained experience in a key area of the democracy and governance sector.
Democratic Republic of Congo
Thailand
Afghanistan
Algeria
---
The Democracy and Governance program has a working project under the auspices of USAID-DRG that allows students to engage in real-time solicited research projects under faculty guidance.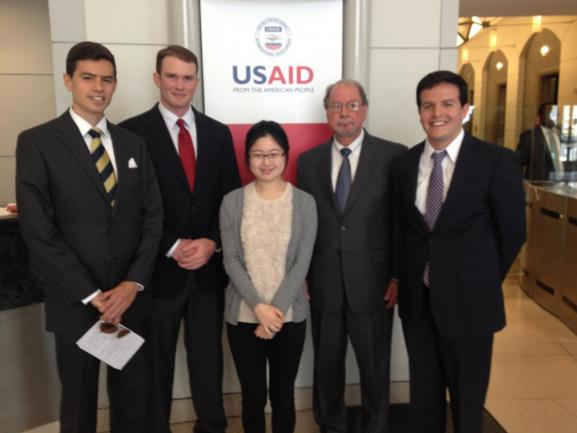 In prior years, the Democracy and Governance Program had established a program of study under the auspices of the United States Agency for International Development and the Center of Excellence on Democracy, Human Rights, and Governance (USAID-DRG). As part of this project, students had the ability to provide valuable and real-time research for USAID on various topics related to elections and election security.
Under the program, faculty could incorporate short-term research projects solicited by USAID into existing course frameworks. In addition, students had the opportunity to engage with a larger group project sponsored by USAID. As part of these projects, small groups of students were selected to conduct research, produce a deliverable product, and organize presentations for USAID staff. These projects counted as a 3-credit course.
This was a fantastic opportunity for students to gain real-world experience, blend their theoretical studies with a practical application, and network with practitioners. It was a welcome addition to the Democracy and Governance Program, which continues to use similar contemporary programs to signal excellence and lead the way in educating future leaders in democracy, human rights, and governance.
The first installment of this course, held in the Spring 2015 semester, had students do research on electoral violence, seeking to develop predictive methodologies and best practices to respond to this type of violence. The students then presented their findings to the Center of Democracy, Human Rights, and Governance at USAID (USAID-DRG), to whom they offered a research report and a visual display of incidents of election violence, to be used by USAID to inform their efforts on this issue. The pictures below are of the students presenting this research at USAID.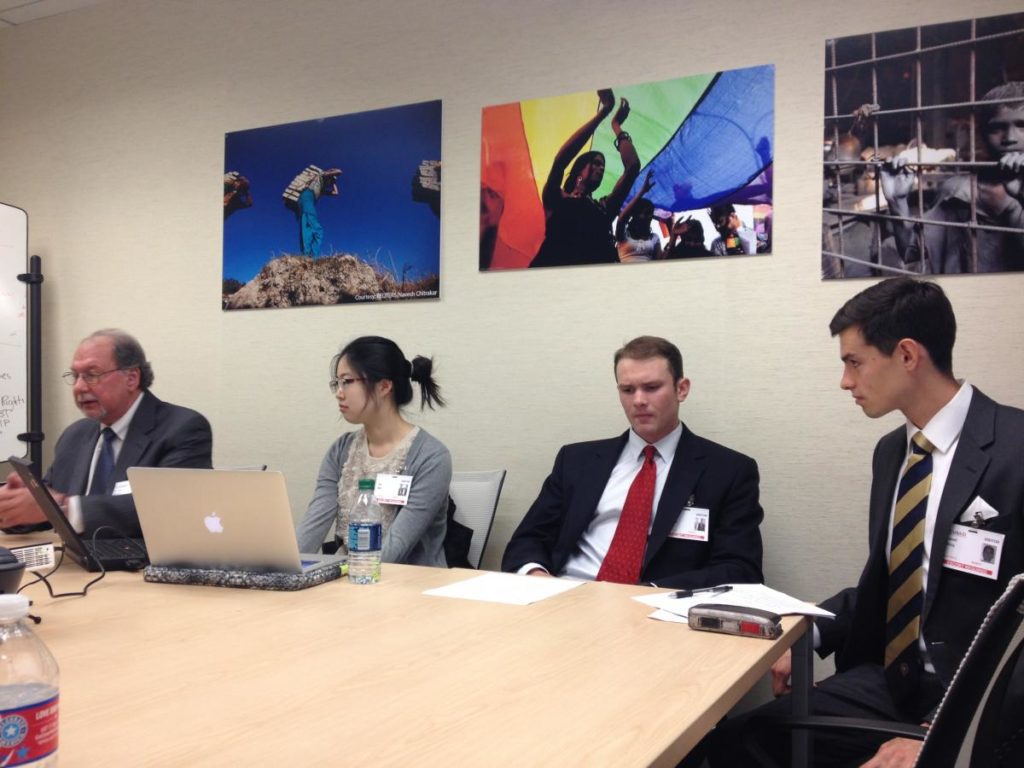 The second iteration of the course ran in Spring 2016. Students conducted research evaluating election technologies' impact on public confidence in electoral integrity. Students once again presented their findings to USAID-DRG.
Spring 2021: Distanced Democracy: The Impact of the COVID-19 Pandemic on Election Administration in Consolidating Democracies. (Faculty Advisor: Jeff Fischer)
Spring 2020: Digital Identity Documents in Electoral Processes: Results from an Inquiry into How EMB's Approach Technology to Affect Voter Confidence in Electoral Outcomes
Spring 2019: Democracy in Decline: A Report on the State of Democratic Backsliding and Recommendations for Counter-Programming
Spring 2018: Media and Electoral Violence Reporting – Guidelines on Editorial Policy and Practice
Spring 2017: International Electoral Supervision Framework for Syria
Spring 2016: Elections and technology: Results from An Inquiry into how EMBs Approach Technology to Affect Voter Confidence in Electoral Outcomes
Spring 2015: Electoral Violence Prediction and Prevention: A Study of Tools for Forecasting and Best Practices [Spring 2015: Election Violence table]