M.A. Democracy & Governance
Practitioners and scholars in fields as diverse as public policy, development, international relations, and security studies increasingly recognize that successful programs in their fields require effective and accountable governance.
The Democracy and Governance Program seeks to understand the foundations of democratic and responsive government, how policymakers can create and implement policies to achieve these objectives, and prepares students for careers in democracy assistance, governance reform, politics, and international affairs.
The program provides graduate training with its Masters in Democracy and Governance (M.A.) and advances research in the areas of democratic change and governance reform through the Center for Democracy and Civil Society (CDACS).
CDACS is a member of the National Endowment for Democracy's Network of Democracy Reserach Institutes, and conducts scholarly research, hosts speakers and conferences, and publishes the annual journal Democracy and Society.
---
Recent Faculty Scholarship
G-7and President Biden's Democracy Agenda: Translating Promises into Action (new window) (new window). Patrick Quirk. Brookings. 18th June 2021
As Democracy Goes, So Goes the Climate (new window). Patrick Quirk. American Purpose. 2nd June 2021
The Democracy Summit Must be Paired with a Democracy Strategy. Patrick Quirk, February 19th 2021
As 2021 Begins, Rival Populisms Menace Tunisia's Democracy (new window). Daniel Brumberg. January 8th 2021
---
Recent & Upcoming Events
To sign up for these 2 outstanding upcoming events head to our News & Events Tab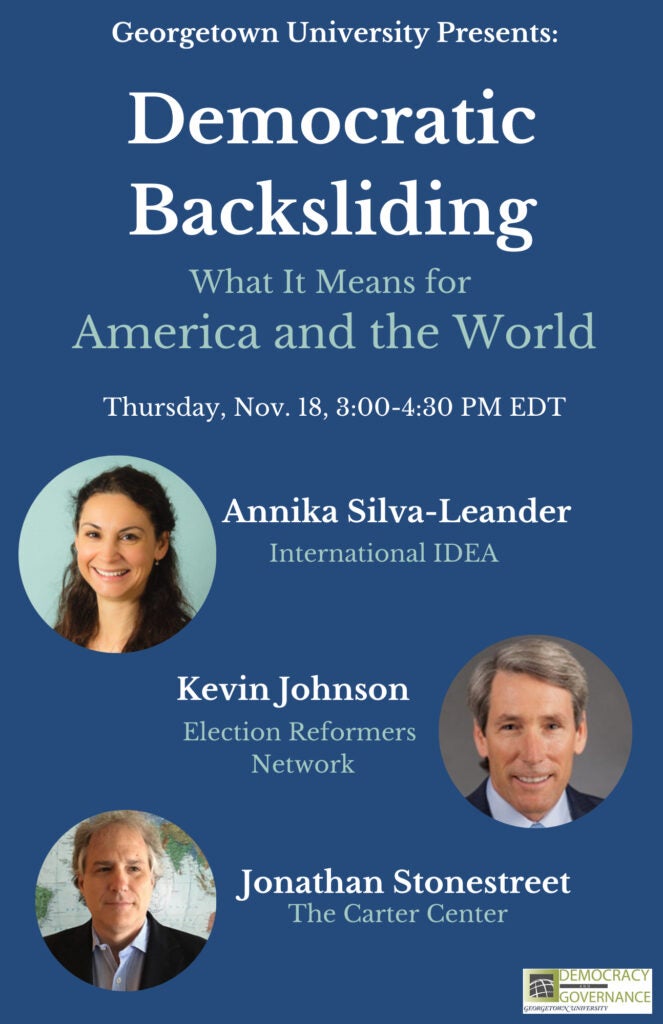 ---
In the wake of what some argue to be a resurgent wave of authoritarianism, democratic backsliding has presented itself as a critical issue for both foreign and domestic policymakers. This event will discuss democratic backsliding as it is seen both in the U.S. and abroad, along with paying specific attention to what it means for foreign policy and international democracy promotion initiatives. A panel of speakers from organizations presently addressing this problem will reflect on backsliding's root causes, its implications for the U.S. as a leading democratic promoter, and the best ways forward. The event will be entirely student-run with Georgetown democracy and governance Masters students acting as the moderators.
Panelists:
Annika Silva-Leander – International IDEA
Kevin Johnson – Election Reformers Network
Jonathan Stonestreet – The Carter Center
Moderators:
Kion Bordbar, Adam Ginsburg, Michael Angeloni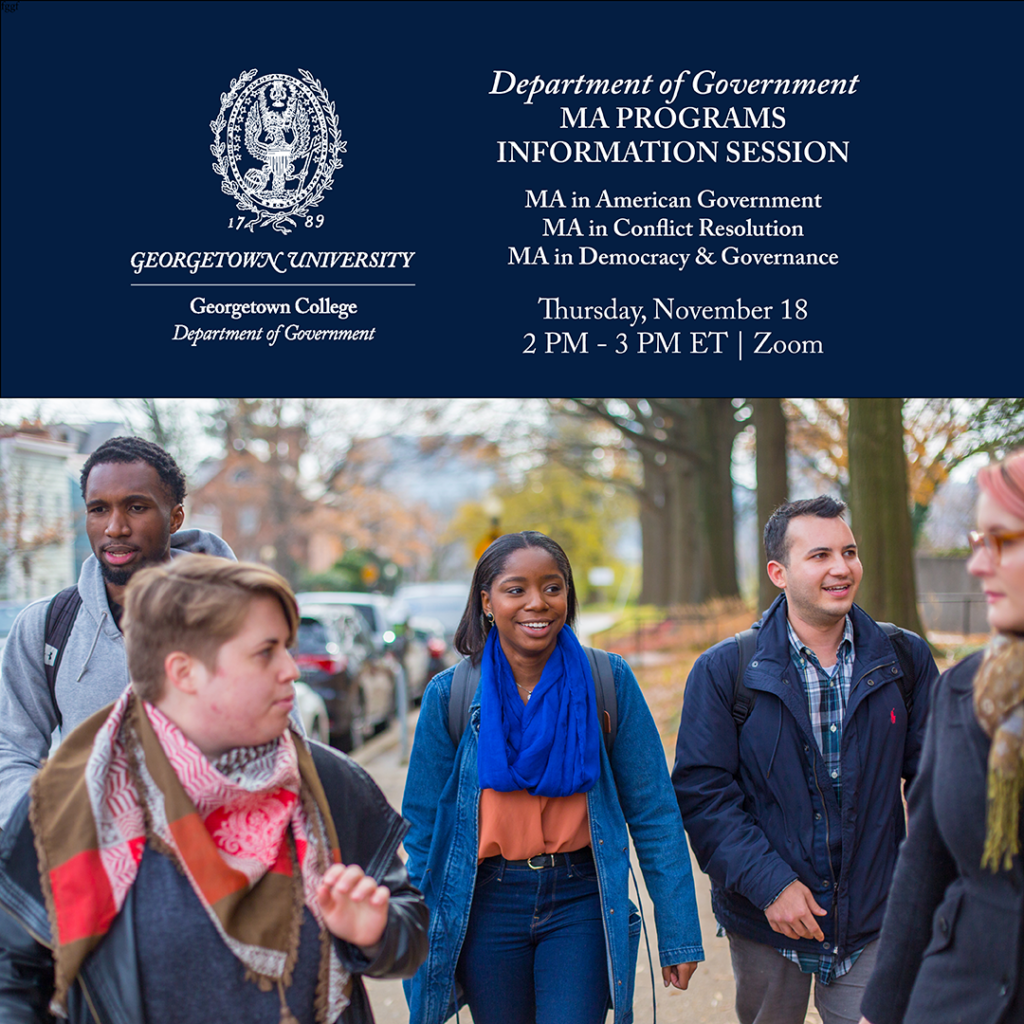 ---
Democracy Promoter, Come Home, 21st April, 12pm- A panel discussion highlighting how international experience informs the work of democracy reform and revitalization in the United States
PBS Newshour- "In Your Shoes" – is a collaborative project of the Laboratory for Global Performance, Georgetown University's Democracy & Governance program, and undergraduate students from Patrick Henry College and Georgetown University. Its mission is to bring students of diverse backgrounds into dialogue with one another to promote mutual understanding, empathy and respect. Moving beyond the political divide, In Your Shoes shines a deeper light on the hopes, fears, and dreams that animate the daily lives of these nine remarkable students. Using performance and story telling, it suggests wider possibilities for a more profound grasp of what it means to create community and trust in challenging times.
---
Contact Us:
Democracy and Governance Program
Georgetown University
Car Barn 3520 Prospect St. NW
Washington DC 20007
Tel: 202-687-6365
Email: democracystudies@georgetown.edu
---