M.A. Democracy & Governance
Practitioners and scholars in fields as diverse as public policy, development, international relations, and security studies increasingly recognize that successful programs in their fields require effective and accountable governance.
The Democracy and Governance Program seeks to understand the foundations of democratic and responsive government, how policymakers can create and implement policies to achieve these objectives, and prepares students for careers in democracy assistance, governance reform, politics, and international affairs.
The program provides graduate training with its Masters in Democracy and Governance (M.A.) and advances research in the areas of democratic change and governance reform through the Center for Democracy and Civil Society (CDACS).
CDACS is a member of the National Endowment for Democracy's Network of Democracy Reserach Institutes, and conducts scholarly research, hosts speakers and conferences, and publishes the annual journal Democracy and Society.
---
Recent Faculty Scholarship
G-7and President Biden's Democracy Agenda: Translating Promises into Action (new window) (new window). Patrick Quirk. Brookings. 18th June 2021
As Democracy Goes, So Goes the Climate (new window). Patrick Quirk. American Purpose. 2nd June 2021
The Democracy Summit Must be Paired with a Democracy Strategy. Patrick Quirk, February 19th 2021
As 2021 Begins, Rival Populisms Menace Tunisia's Democracy (new window). Daniel Brumberg. January 8th 2021
---
Recent & Upcoming Events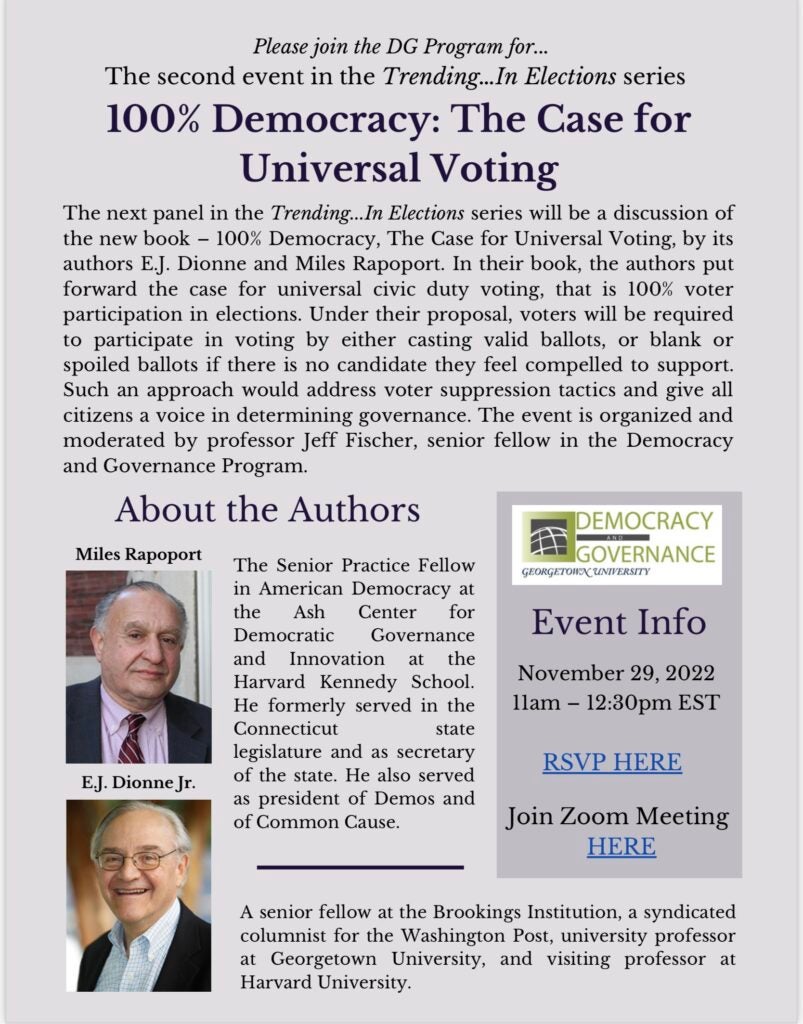 ---
Book Talk: Classless Politics: Islamist Movements, the Left, and Authoritarian Legacies in Egypt
The Center for Contemporary Arab Studies (CCAS) and the MA Program in Democracy and Governance are pleased to invite you to a talk by Dr. Hesham Sallam, who has just published his book, Classless Politics: Islamist Movements, the Left, and Authoritarian Legacies in Egypt (Columbia University Press). A cutting-edge study, his book probes the relationship between neoliberal economics and Islamist politics in Egypt that sheds new light on the worldwide trend of "more identity, less class." This talk will examine why Islamist movements have gained support at the expense of the left, even amid conflicts over the costs of economic reforms. Dr. Sallam is a Research Scholar at Stanford University's Center on Democracy, Development and the Rule of Law, where he serves as the Associate Director of the Program on Arab Reform and Democracy. He holds a PhD from the Department of Government at Georgetown University, where he also obtained his MA from the CCAS. Chairing the presentation will be Dr. Daniel Brumberg, Senior Advisor to the D&G Program and Dr. Sallam's Dissertation Advisor. Please join us for what promises to be a lively and insightful discussion!
Register here. A light lunch will be served.
Date: November 11
Time: 12:00pm-1:30pm
Location: Intercultural Center (ICC) CCAS Boardroom
Contact Us:
Democracy and Governance Program
Georgetown University
Car Barn 3520 Prospect St. NW
Washington DC 20007
Tel: 202-687-6365
Email: cdacsgtown@gmail.com (new window)
---