M.A. Democracy & Governance
Practitioners and scholars in fields as diverse as public policy, development, international relations, and security studies increasingly recognize that successful programs in their fields require effective and accountable governance.
The Democracy and Governance Program seeks to understand the foundations of democratic and responsive government, and how policymakers can create and implement policies to achieve these objectives and prepares students for careers in democracy assistance, governance reform, politics, and international affairs.
The program provides graduate training with its Masters in Democracy and Governance (M.A.) and advances research in the areas of democratic change and governance reform through the Center for Democracy and Civil Society (CDACS).
CDACS is a member of the National Endowment for Democracy's Network of Democracy Research Institutes, conducts scholarly research, hosts speakers and conferences, and publishes the annual journal Democracy and Society.
---
Recent Faculty Scholarship
G-7and President Biden's Democracy Agenda: Translating Promises into Action (new window) (new window). Patrick Quirk. Brookings. 18th June 2021
As Democracy Goes, So Goes the Climate (new window). Patrick Quirk. American Purpose. 2nd June 2021
The Democracy Summit Must be Paired with a Democracy Strategy. Patrick Quirk, February 19th, 2021
As 2021 Begins, Rival Populisms Menace Tunisia's Democracy (new window). Daniel Brumberg. January 8th 2021
---
Recent & Upcoming Events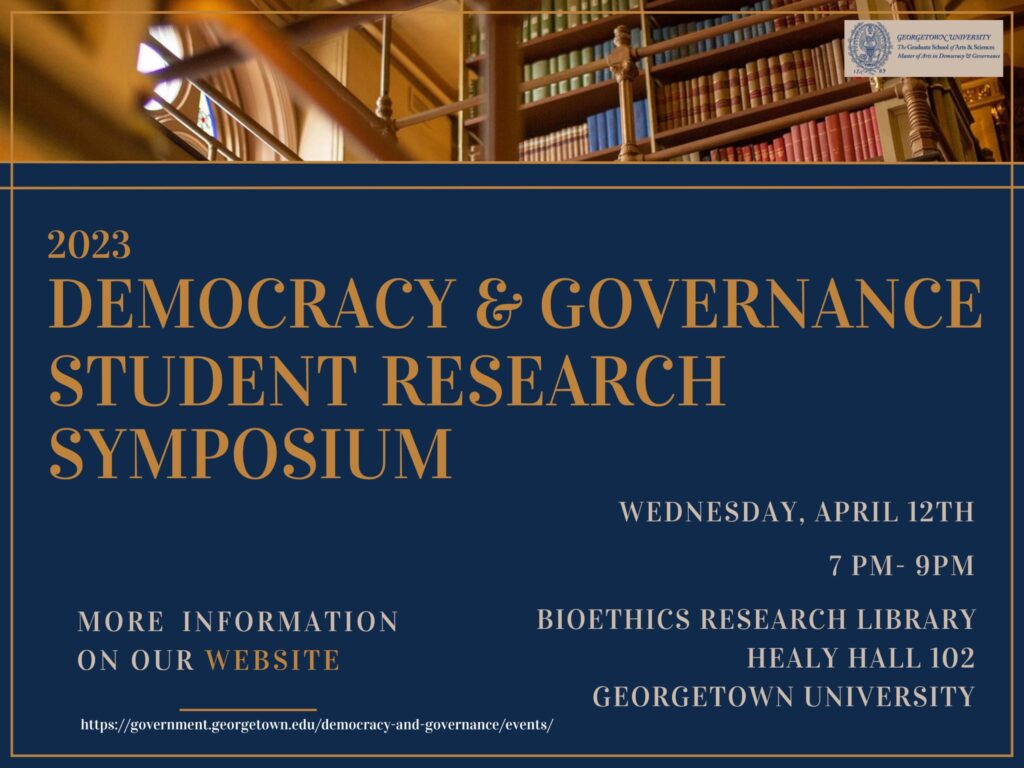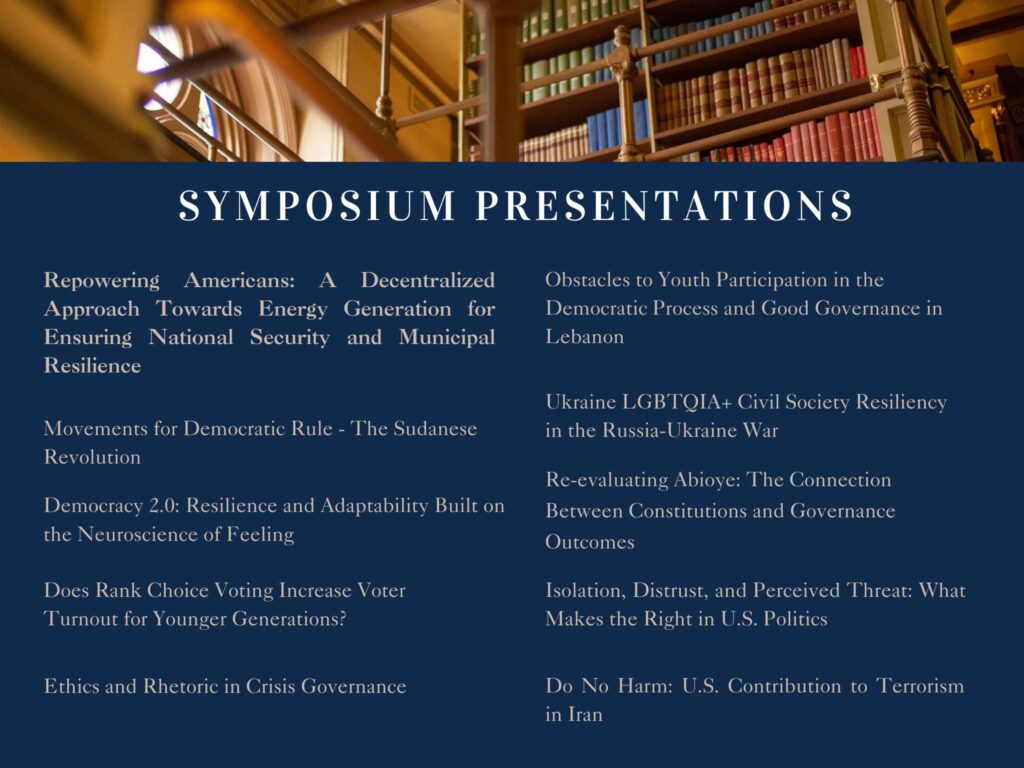 Democracy and Governance Student Research Symposium (Official Call for Research)
This year we are beyond excited to launch the Democracy and Governance Student Research Symposium, which will be hosted by our Center for Democracy and Civil Society (CDACS). This is an opportunity for MA students from DMV area universities who are focused on democracy and governance to present their independent research/projects, gain practical experience, connect with other young people in the field, and make career connections with established professionals looking for exciting new ideas and innovations.
---
Contact Us:

Democracy and Governance Program
Georgetown University
Car Barn 3520 Prospect St. NW
Washington DC 20007
Tel: 202-687-6365
Email: cdacsgtown@gmail.com (new window)
---