A Path for Peacebuilding through Peace Education in Afghanistan: Lessons Learned and the Road Ahead for Peace Education
Posted in Events | Tagged Conflict Resolution, Events, Recent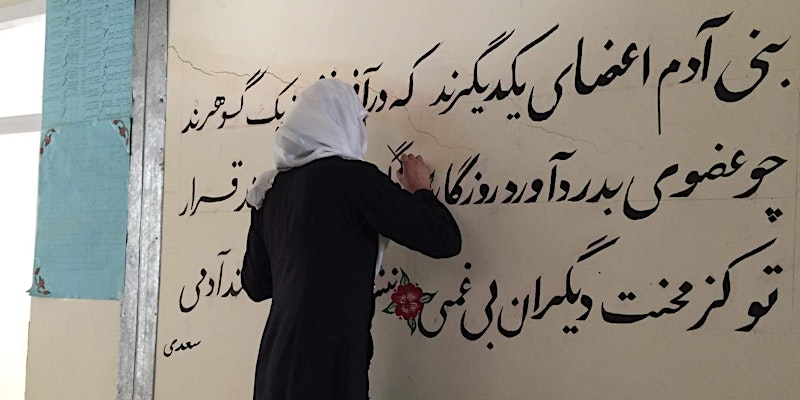 The Georgetown University MA program in Conflict Resolution is thrilled to be hosting a panel focused on the peacebuilding efforts that have taken place since the creation of the Islamic Republic in 2001 through peace education in forms of the formal education system, technology, and art. The panel's objectives are:
1- to facilitate a discussion about the impact of various peace education efforts on peacebuilding during the last two decades,
2- to explore to what extent Afghanistan's education system, textbooks contents particularly, meets peace education objectives, and
3- to discuss the potential effects — negative or positive — on peace education in the post-peace deal with the Taliban era.
Featuring:
Roya Mahboob, CEO of Digital Citizen Fund, an Afghan entrepreneur and philanthropist focused on building digital literacy for women and children in developing countries. Named one of TIME Magazine's 100 Most Influential People in the World in 2013 for her work in building internet classrooms in high schools in Afghanistan.
Rohullah Amin, Researcher, Professor, and Director of the American Institute for Afghanistan Study (AIAS).
Aziz Royesh, Founder of Marefat High School and winner of Global Teacher Prize in 2017. Social Activists, teacher and writer.
Ahmad Jawad Samsor, Peace Education Program Manager in the United States Institute of Peace (USIP) in Kabul. Lecturer at American University of Afghanistan (AUAF). 
Ahmad Sarmast, Founder of the Afghanistan National Institute of Music
Moderated by:
Dr. Tony Jenkins, Director of International Institute on Peace Education and the Global Campaign for Peace Education.