Alumni
Founded in 2005, Georgetown's M.A. in Conflict Resolution has graduated over 300 students since that time. Our alumni have built impressive careers using skills and concepts learned in the program.
Our graduates go on to work in government and the private sector, for international organizations and non-governmental organizations, and continue in academia.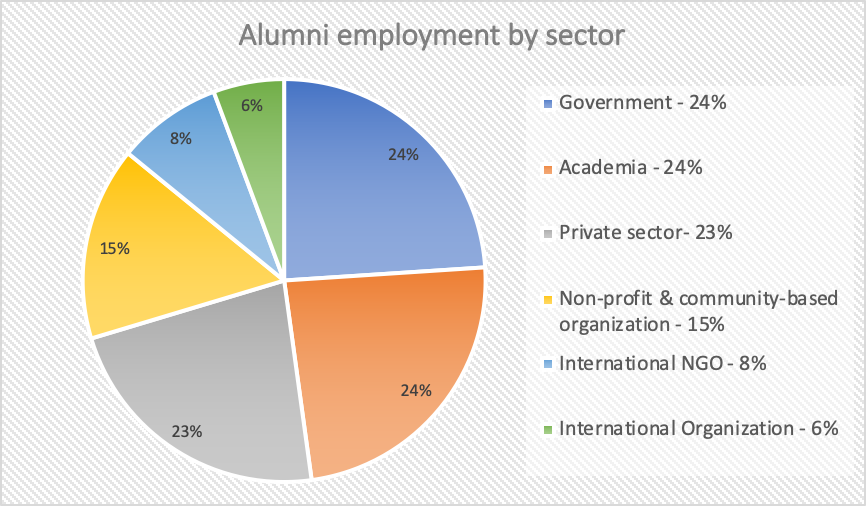 Functionally, most graduates work in program management (44%), research and writing (26%), advocacy (12%), monitoring and evaluation (11%), and mediation and facilitation (7%).
About 72% of our graduates find a job in the field within six months, and 91% of CR graduates find their work meaningful.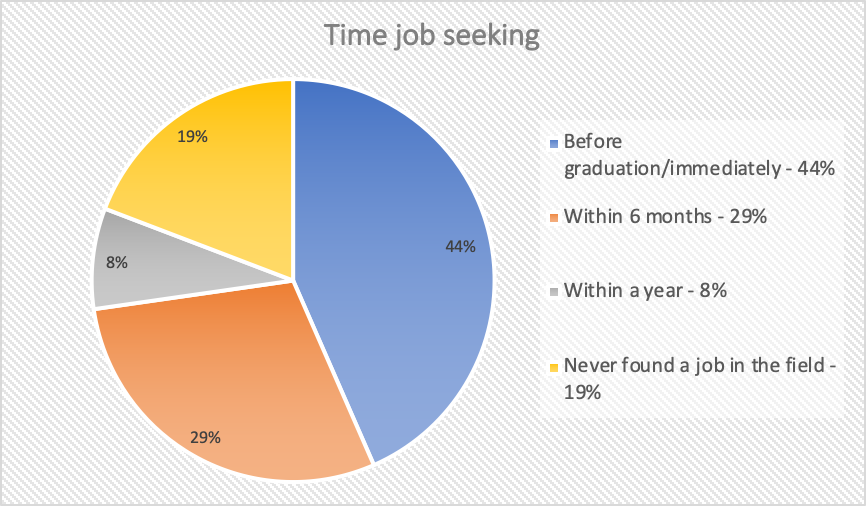 Close to a third of our graduates continue to live and work in the Washington DC region. Roughly 16% live and work internationally, including in Africa, Asia, Europe, the Middle East and Latin America.
Alumni Placements
CR alumni are working in a variety of exciting capacities throughout the world. The following is a sample of organizations, government agencies, and NGOs with which our graduate work:
Mediation, facilitation & negotiation organizations
Conflict Resolution Center of Baltimore County
HasNa
Keystone Policy Center
Humanitarian, human rights & peacebuilding organizations
ACTED
A Glimmer of Hope
Global Communities
Human Rights Watch
InterAction
International Crisis Group
The International Rescue Committee
Mercy Corps
Norwegian Red Cross
Open Society Foundation
Partners for Democratic Change
Peace Brigades International
Polaris Project
Save the Children
Search for Common Ground
United States Institute of Peace
US-based non-profit service & advocacy organizations
American Red Cross
Ascentria Care Alliance
Catholic Relief Services
Coalition for the Homeless
Coalition to End Domestic and Sexual Violence
Democracy Council
Elizabeth Glaser Pediatric AIDS Foundation
Federation of American Scientists
HIAS
J Street
The Maureen and Mike Mansfield Foundation
Tahirih Justice Center
UNICEF USA
Governance, development & security organizations
The Asia Foundation
Booz Allen Hamilton
Chemonics International
Creative Associates
Development Alternatives, Inc. (DAI)
Development and Training Services
Development Transformations
Freedom House
International Development Group
International Republican Institute
National Democratic Institute
Government
Attorney General of Massachusetts
Benton County (WA) Prosecutor's Office
City of New Orleans
Federal Energy Regulatory Commission
Florida Department of Health
German Bureau of Institutional Reform and Democracy
German Federal Foreign Office
Ministry of Foreign Affairs of Denmark
New York State Assembly Health Committee
Office of the United States Director of National Intelligence
Office of United States Foreign Disaster Assistance
United States Agency for International Development
United States Army
United States Department of Defense
United States Department of Homeland Security
United States Department of State
United States Special Inspector General for Afghanistan Reconstruction
International Organizations
The International Organization for Migration
The World Bank
The World Food Program
Universities & academia
The College of New Jersey
Georgetown University
National University of Singapore
The Sarajevo School of Science and Technology
Stanford University
University of Edinburgh
University of Maryland
University of Notre Dame
Vermont Commons School
Research organizations
The Aspen Institute
Council for International Exchange of Scholars
CRDF Global
Gallup
Georgetown Institute for Women, Peace & Security
Harvard Humanitarian Initiative
National Endowment for Democracy
National Science Foundation
Navanti
Pew Research Center
Public Policy Polling
Private sector
Albright Stonebridge Group
Deloitte Consulting LLP
Discovery , Inc.
Gartner
Grant Thornton
Novetta Solutions LLC.
Public Relay
The Rossman Group
Wonderman Thompson
Government Master's Program Office
Georgetown University
Box #571444
Car Barn, Suite 110
3520 Prospect Street, N.W.
Washington, DC 20057
conflictresolution@georgetown.edu
Phone: 202-687-6373
Fax: 202-687-1112