Degree Requirements
Georgetown's M.A. in Conflict Resolution requires 34 credit-hours of coursework. Full time students can complete these requirements with four consecutive semesters of classes, including a summer of fieldwork.
For the incoming cohort of fall 2022, the normative course progression will be: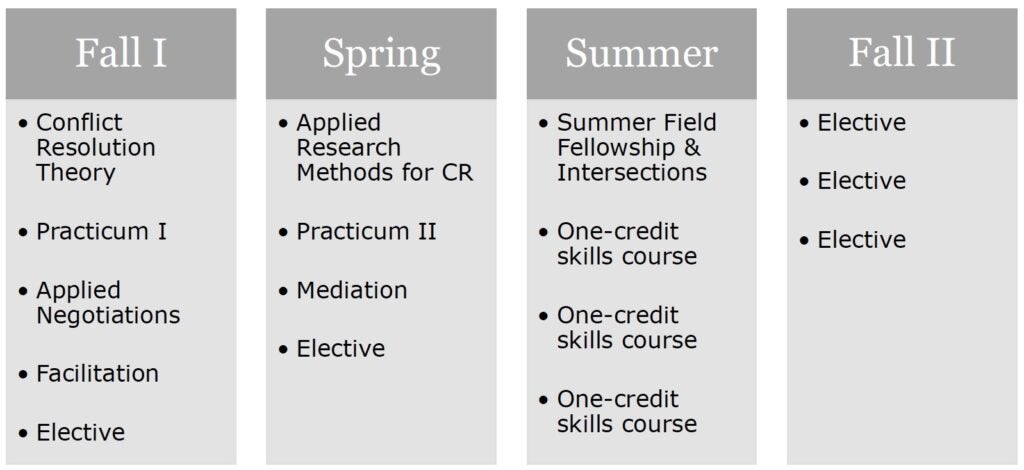 The Conflict Resolution curriculum at Georgetown includes three distinct elements:
World-class academic training in the social science of conflict & peace
Core courses within this element, such as Conflict Resolution Theory and Research Methods, ground the curriculum.
Elective courses allow our students to build a degree that is tailored to their interests. Electives can be taken within the Conflict Resolution Program or in other units of the university. These credits can be used to pursue an optional certificate.
Core skills training includes negotiation, mediation and facilitation. Students have the option to earn certification in mediation.
Optional skills courses, taught by top practitioners in their field, prepare students for a variety of professions in which conflict resolution practice is in demand.
Students follow a 3-semester sequence of experiential learning, consisting of the Practicum I & II and the Summer Field Fellowship. Students engage in their chosen field, build professional networks and benefit from a guided, collective learning experience while doing so.
In the Practicum series, students conceive of and deliver concrete products to partner organizations.
The Summer Field Fellowship is a program-funded 6 to 8-week professional placement, undertaken anywhere in the world and tied into an online course on professional practice.
Georgetown's M.A. in Conflict Resolution is small, specialized, and skill-based. Students have the advantages of an active learning community and faculty who are cutting-edge academics and the top practitioners of the field. Students are also encouraged to take advantage of speakers, events, and workshops both on campus and in Washington, D.C.