One-Credit Skill Courses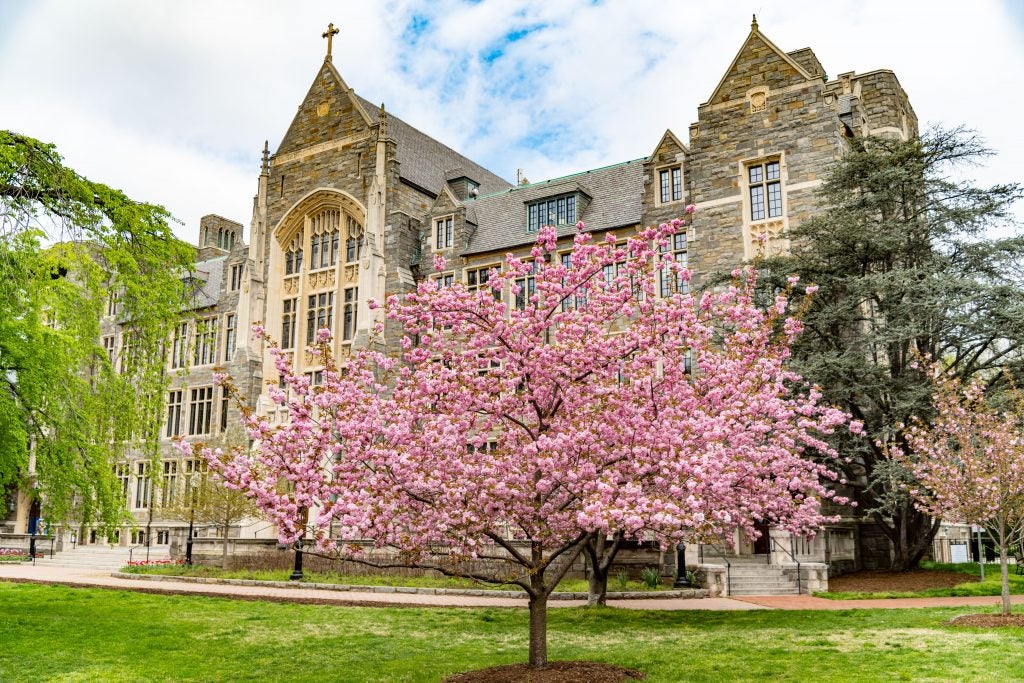 We are committed to providing students with a superior education that provides rigorous academic training along with skills development, enabling students to pursue successful careers in diverse areas. We (along with the other Government Department MA programs) offer a number of one-credit skill classes every semester that allows students to design a personalized professional development track.
Students in the Democracy and Governance program must take one and can take up to four of these courses, which generally meet over two intensive weekend days (6 hours a day) or over a 5-week period (2.5-hour sessions).
Offerings may change each year. Examples of previously offered skill courses include:
---
Writing for Government Grants & Contracts in International Development
Eric Bjornlund, Co-Founder and President, Democracy International
This course is intended to help students to understand the process of government funding for international development programs and to help prepare them to write proposals and applications for government contracts and grants in international development and related fields. It is designed to encourage the development of practical skills that will be directly relevant and useful in writing proposals and applications. Students who take this course should be more marketable and better prepared to work at consulting firms/government contractors, NGOs, government agencies, intergovernmental organizations, or other places involved in international development or other government-funded fields.
---
Thinking Strategically 
Alysson Oakley
Whether it is for daily project prioritization, country objectives articulation, sector-wide goals, or full-blown organizational change, a coherent strategy is critical. A strategy helps define a clear path to achieving one's goals, from the practical to the transformative. This short course will cover common approaches to developing and assessing strategy (gap analysis, PEST analysis, SWOT analysis, balanced scorecard, SMART objectives, applied political economy analysis, and so on). During the course, students will develop a mock strategy and an assessment plan for a project or an organization, via hands-on activities that feature different approaches. This course will be particularly relevant to students entering government, the non-profit sector, or the non-governmental sector.
---
Fundraising Strategies and Tools from Foundations
Alex Toma, Director, Peace and Security Funders Groups
This course will cover the world of foundation funding and strategies/tools for accessing funds in this sector. The class will be highly interactive in nature and explore the world of foundations, how to approach foundation funding, and concrete practice in drafting letters of inquiry, proposals, and strategies on how to maximize chances of receiving funding.
---
Policy Writing
Dr. Michael Shank, Director of Media Strategy, Climate Nexus
Critical thinking and writing skills are important in any political, advocacy, or policy position. This class would teach students useful skills for writing in a variety of situations: from policy memos, speeches, op-eds, and blogs. The class might also prepare students for presenting and engaging with the media. Or perhaps there are two separate classes one on policy writing and one on media presentations)
---
Policy Briefing
Patrick Quirk
Delivering succinct oral briefings to policymakers or senior leaders is an essential part of any career. This course focuses on conveying best practices for delivering briefings to senior leaders in the federal government, on Capitol Hill, and in the NGO community.
---
Leadership
Scott Beale, Founder/CEO, Atlas Corps
This course will explore how to develop leadership teams, skills, and techniques needed for 21st-century careers. The course will be highly practical and prepare students to be leaders within a diverse set of institutions, how to motivate and challenge others, advocate for change, and to influence others.
---
Proposal Development 101 
Kate Krueger & Katie LaRoque
Students will receive a comprehensive overview of the proposal development process for U.S.-funded Democracy, Human Rights, and Governance (DRG) programs. First, students will learn what DRG programs look like, which donors fund them, and how implementing organizations compete for those funds. Students will examine the components of typical proposals, which include technical and cost applications, and other various appendices. Students will learn how to approach solicited and unsolicited proposals, as well as gain an appreciation for how partnering with other organizations, specific donor priorities, and choice of instrument influence proposals. Students will also gain a preliminary understanding of how to develop the budget and management structure for a program, then learn how to align the program's design and intended activities with overall the cost application. Finally, students will learn how both donors and implementing organizations approach proposal development, from review processes to collaborative design, to proposal package development. Instructors will share real-life examples and tips for how to develop competitive and donor-compliant proposals. By the end of the course, students will be able to meaningfully contribute to the proposal development process at an implementing organization or contribute to proposal reviews at a USG donor agency.
---
Social Media for Social Change
Aaron Sherinian, Chief Communications & Marketing Officer, UN Foundation
Almost all young people today at Georgetown have a basic awareness of how to use social media to communicate with their peers. However social media expertise is an increasingly important area arena, as there is an increasing number of organizations hiring for direct positions or individuals with skills and abilities. This session will look go beyond basic social media tools, to look at the role of social media in affecting policy and societal change. Students will also develop the ability to craft a social media campaign and more importantly to be aware of the debates surrounding activism/slacktivism and what are the tools that exist to measure the impact of social media.
---
Interagency Coordination in U.S. Foreign Policy
Dan Grant
This course aims to illustrate the points of coordination among government bodies and other institutions in the foreign policy development and execution process of the U.S. government. It is designed to help students identify the multiple nodes of influence that affect the policy process, and as such, will be broken into discrete sections: the National Security Council interagency process and how the White House can facilitate or hinder its execution; intra-agency dynamics that support or undermine internal policy agreement within a given institution; the points of friction between agencies in the process and how they are resolved; and the role of Capitol Hill in the process.
Special topics will focus on external actors in the policy process: foreign host governments and embassies; multilateral organizations; NGOs; and think tanks.
---
Technology for Social Change
Nick Martin, Founder, TechChange
New technologies have fundamentally changed the way that NGOs, governments, and companies engage with communities around the world. Tools like mobile phones, digital maps, and social media platforms have already demonstrated tremendous value in addressing a range of social problems and yet so much more potential exists on the horizon. This one-credit course will explore some of the ways technology is being used to respond to crises, improve healthcare delivery, monitor elections, provide banking services, ensure effective governance, expand educational opportunities, and more. It will also address some of the key challenges these new tools present, such as lack of access, underdeveloped infrastructure, implementation issues, as well as obstacles for scale-up and evaluation. The course is designed for Georgetown University students to assist them in developing concrete strategies and technological skills to work amid this rapidly evolving landscape. Participants can expect an immersive and interactive learning environment with a variety of real-world examples from organizations working in the field.
---
Advocacy Skills
Sanam Naraghi-Anderlini, Co-Founder, International Civil Society Action Network (ICAN)
Designed to be interactive and practice-oriented, the course will inform students of the key concepts and elements of effective advocacy – with attention to theories of change principles, articulating advocacy goals, target audiences, coalition building, and networking messaging, presentations, and funding raising. I will share examples of international and national level efforts, and provide an opportunity for students to explore and develop their own ideas and designs.
---
Storytelling for Change
Jennifer Lentfer, Creator, how-matters.org
As institutions and organizations evolve, everyone has a role and responsibility in ensuring that their messages break through the information superhighway to enable the changes they want to see in the world. Communication is no longer a specialized skill set to increase visibility and build a brand, it is something all people in an organization must use to achieve its mission. Storytelling for Influence will enable students to hone their ability to educate, motivate, and persuade specialized audiences for policy advocacy, programming, and public outreach, i.e. write something that will get read and say something that will be heard. The course will be based on experiential learning, where students will be telling/writing their own stories and/or critiquing/improving existing communications products using acquired knowledge/tools.
---
Building a Sustainable Non-Profit Organization
Cameron Chisholm, President, International Peace & Security Institute
The course aims to expose students to the major ideas, trends, processes, and unique qualities animating successful non-profit organizations. Students will experience developing the analytical and relational skills at the foundation of being an effective leader and thinking strategically about applying the toolbox of management approaches to building a contemporary sustainable non-profit organization. These skills include but are not limited to, leadership, social entrepreneurship, mission development, business planning, project planning/design, budgeting, board development and management, branding/marketing/technology utilization, networking, presentation skills, and launch plans.
---
Strategic Collaboration
Jessica Raper, Research Faculty, CR and Global Health, Georgetown University
Strategic and cross-sector collaboration is a necessary solution to complex development challenges. While the practice and research of cross-sector collaboration are extremely challenging, there has been extraordinary growth in the developed-country literature. Since 2006, the literature has expanded dramatically with hundreds of empirical and theoretical articles published. By contrast, in developing countries, the practice of cross-sector collaboration has far outpaced the research. While cross-sector collaboration is desired by governments, required by funders, and recommended by policymakers—and most fields, including the global health and conflict resolution fields, work extensively across sectors, memorializing these activities through various types of documentation such as contracts and memoranda of understanding—this policy and practice has not been supported by a commensurate level of research focus. This class will highlight and begin to address this crucial knowledge gap. We will investigate the existing literature and analyze key areas where attention is needed. Students will leave the class equipped with cutting-edge tools to build and research cross-sector collaboration in a developing country setting. Case studies will be drawn primarily from the global health and conflict resolution sectors.
---