Recent Course Offerings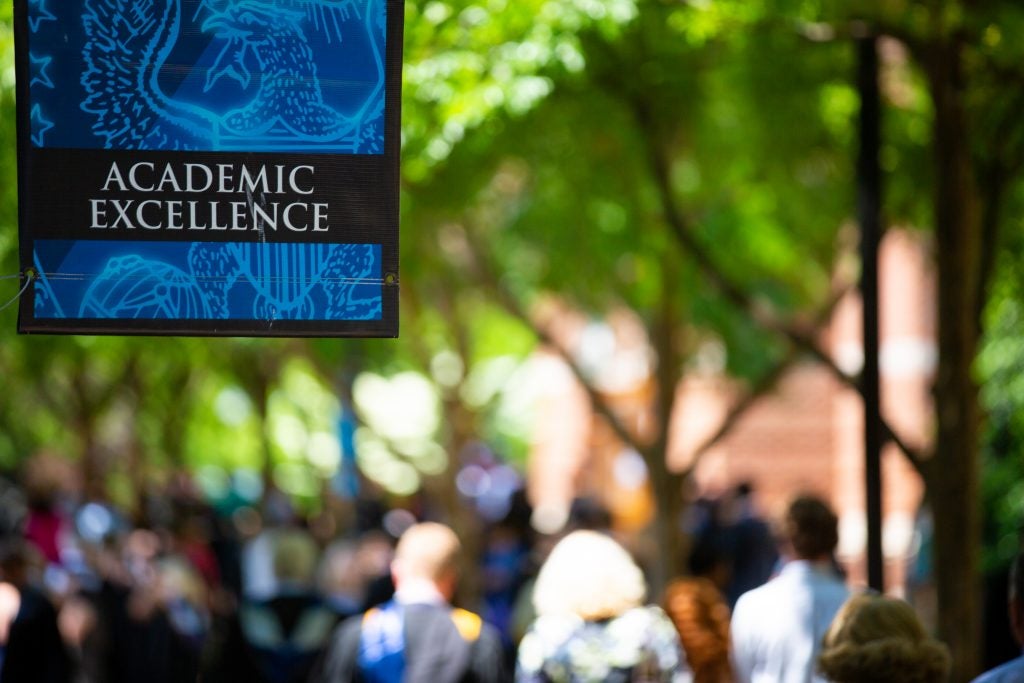 Here you will find some of the recent course offerings relevant to the MA Program in Democracy and Governance, and how they fill degree requirements. You may use this as a rough guide to help plan your course schedule.
You may also draw on courses from other units at Georgetown or the regional consortium (space available and with instructor approval). Please consult with the program about whether and how your course selections fulfill degree requirements.
---
---
Spring 2023
Core Courses
GOVT 5640: Program Design and Evaluation (Prof. Alysson Oakley)
GOVT 5453: Comparative Political Institutions (Prof. Elton Skendaj)
History and Theories of Democracy
GOVT 5433: Authoritarianism & Hybrid Regimes (Prof. Meir Walters)
GOVT 5448: USAID Study Group (Prof. Jeff Fischer)
GOVT 6405: Theories of Political Development (Prof: Daniel Brumberg)
Democracy, Governance, and Institutions
GOVT 4238: Countering Polarization: Theory and Practice (Prof. Brumberg and Skendaj).
GOVT 5433: Authoritarianism & Hybrid Regimes (Prof. Meir Walters)
GOVT 5443: Government and Stabilization Operations (Prof. Patrick Quirk)
GOVT 5448: USAID Study Group (Prof. Jeff Fischer)
GOVT 5453: Comparative Political Institutions (Prof. Elton Skendaj)
GOVT 5663: Politics, Governance and Institutional Reform in International Development (Prof: Barbara Nunberg)
Democracy and Society
GOVT 4238: Countering Polarization: Theory and Practice (Prof. Brumberg and Skendaj)
GOVT 5443: Government and Stabilization Operations (Prof. Patrick Quirk)
GOVT 4231: Race, Gender and American Politics (Prof. Nadia Brown)
Democracy, Governance, and Development Policy
GOVT 4238: Countering Polarization: Theory and Practice (Prof. Brumberg and Skendaj)
GOVT 5443: Government and Stabilization Operations (Prof. Patrick Quirk)
GOVT 5663: Politics, Governance and Institutional Reform in International Development (Prof: Barbara Nunberg)
Regional Studies in Democracy
GOVT 4450: Politics of East & Central Europe (Prof. Kathleen Smith)
GOVT 4456: Latin American Government and Politics (Prof. Diana Kapiszewski)
GOVT 5425: Politics of Human Rights in Latin America (Prof. Michael Reed-Hurtado)
GOVT 6403: Chinese Politics in Comparative Perspective (Prof. Kristen Looney)
GEST 549: Postcommunist Balkan Politics (Prof: Elton Skendaj)
Skills courses
GOVT 5617: Proposal Development 101 (Prof: Katie LaRoque, Kate Krueger)
GOVT 5209: Policy Briefing (Prof. Patrick Quirk)
Electives
GOVX 5336: Gender and Security Toolbox. (Prof. Karine Lepillez)
GOVT 5618: Peace Agreements (Prof. Katherine Collin)
GOVT 5669: Gender, International Security, & Development (Prof. Ayse Orellana)
GOVT 6233: Women and Leadership (Prof. Anne M. Cammisa)
GOVT 6807: Religion and Nationalism (Prof. Jecelyne Cesari)
GOVT 6603: Race and US Foreign Policy (Desh Girod)
INAF 505: Diplomacy for the World to Come (Prof. Juan Luis Manfredi)
GEST 537: Political Economy of Electoral Politics (Prof: Pauliina Patana)
Fall 2022
Core Courses
GOVT 5400: Democracy and Governance: Approaches & Topics (Prof. Daniel Brumberg)
GOVT 5432: Research Methods in Democracy and Governance (Prof. Elton Skendaj)
GOVT 5450: Democracy Promotion (Prof. Brian Joseph)
History and Theories of Democracy
GOVT 5662: Conflict and Democracy (Prof. Elton Skendaj)
GOVT 5439: Electoral Violence: Analysis (Prof. Patrick Quirk)
GOVT 5463: Ethnicity, Race & Nation (Prof. Charles King)
INAF 576: Liberal Democracy in Crisis (Prof. Thomas Zimmer)

Democracy, Governance, and Institutions
GOVT 5662: Conflict and Democracy (Prof. Elton Skendaj)
GOVT 5439: Electoral Violence: Analysis (Prof. Patrick Quirk)
GOVT 5454: International Electoral Policy & Practice (Prof. Jeff Fischer)
GOVT 5677: Corruption, Conflict, and Security (Prof. Frank Vogl)

Democracy and Society
GOVT 4444: Globalization and Autocracy (Prof. Daniel Brumberg)
GOVT 5446: States and Societies in Latin America (Prof. Matthew Carnes)
GOVT 6422: Social Movements and Nonviolent Resistance (Prof. Chantal Berman)
GOVT 5463: Ethnicity, Race & Nation (Prof. Charles King)

Democracy, Governance, and Development Policy
GOVT 4444: Globalization and Autocracy (Prof. Daniel Brumberg)
GOVT 5677: Corruption, Conflict, and Security (Prof. Frank Vogl)

Regional Studies in Democracy
GOVT 4446: Politics of North Africa (Prof. Stephen J. King)
GOVT 4458: Arab Politics in Transition (Prof. Stephen J. King)
GOVT 5446: States and Societies in Latin America (Prof. Matthew Carnes)
GOVT 5468: Security Issues in South Asia (Prof. Christine Fair)
GOVT 6406: Chinese Politics in Comparative Perspective (Prof. Kristen Looney)

One-Credit Skills Courses
GOVX 5421: Thinking Strategically (Prof. Alysson Oakley)
GOVT 5415: Interagency Coordination in US Foreign Policy (Prof. Dan Grant)
Other
GOVT 5001: Analysis of Political Data (Prof. Mark Richardson)
GOVT 5609: Human Security (Prof. Katherine Collin)
GOVT 5669: Gender, International Security, & Development (Prof. Seniha Ayse Orellana)
GOVT 5673: Human Rights and Conflict Resolution (Prof. Molly Jean Inman)
GOVT 5687: Transitional Justice (Prof. Charles Villa-Vicencio)
GOVT 5694: Conflict Management Challenges in Africa (Prof. Charles Villa-Vicencio)
GOVX 5636: Gender & Security Toolbox (Prof. Karine Lepillez)
GOVT 5681 Intro to Conflict Resolution Skills (Prof. Alysson Oakley)
INAF 441 Populism & Democracy in Europe (TBA)
Spring 2022
Core Courses
GOVT 540: Program Design and Evaluation (Prof. Alysson Oakley)
GOVT 553: Comparative Political Institutions (Prof. Elton Skendaj)
History and Theories of Democracy
GOVT 533: Authoritarianism & Hybrid Regimes (Prof. Meir Walters)
GOVT 548: USAID Study Group (Prof. Jeff Fischer)
Democracy, Governance, and Institutions
GOVT 438: Countering Polarization: Theory and Practice (Prof.
Brumberg and Skendaj).
GOVT 533: Authoritarianism & Hybrid Regimes (Prof. Meir Walters)
GOVT 543: Government and Stabilization Operations (Prof. Patrick
Quirk)
GOVT 548: USAID Study Group (Prof. Jeff Fischer)
GOVT 553: Comparative Political Institutions (Prof. Elton Skendaj)
Democracy and Society
GOVT 438: Countering Polarization: Theory and Practice (Prof.
Brumberg and Skendaj)
GOVT 543: Government and Stabilization Operations (Prof. Patrick
Quirk)
GOVT 408: Race, Gender and American Politics (Prof. Nadia Brown)
CCTP 591: Free Expression and Global Internet (Prof. Leslie Harris)
Democracy, Governance, and Development Policy
GOVT 438: Countering Polarization: Theory and Practice (Prof.
Brumberg and Skendaj)
GOVT 543: Government and Stabilization Operations (Prof. Patrick
Quirk)
GOVT 589: Development Responses to Political Violence (Prof. Daniel
Adrian Weggeland)
Regional Studies in Democracy
GOVT 409: Portuguese countries (Prof: Carlos Jalali)
GOVT 450: Politics of East & Central Europe (Prof. Kathleen Smith)
GOVT 455: Latin American Government and Politics (Prof. Diana
Kapiszewski)
GOVT 516: The Future of Russia (Prof. Thane Gustafson)
GOVT 525: Politics of Human Rights in Latin America (Prof. Michael
Reed-Hurtado)
GOVT 643: Chinese Politics in Comparative Perspective (Prof. Kristen
Looney)
Other
GOVT 476: Democratic Futures (Prof. Mark Fisher)
GOVT 518: Peace Agreements (Prof. Katherine Collin)
GOVT 570: Gender, International Security, & Development (Prof.
Seniha Ayse Orellana)
GOVT 597: Environment & Conflict Resolution (Prof. William E. Hall)
GOVT 633: Women and Leadership (Prof. Anne M. Cammisa)
GOVX 509: Skills for Fieldwork (Prof. Julie-Ayn Steiger)
GOVX 513: Counter-Crisis Communications (Prof. Brett P. Bruen)
GOVX 536: Gender and Security Toolbox. (Prof. Karine Lepillez)
GOVX 541: Policy Briefing (Prof. Patrick Quirk)
INAF 505: Diplomacy for the World to Come (Prof. Juan Luis Manfredi)
Fall 2021
Core Courses
GOVT 527: Democracy and Governance: Approaches & Topics (Prof. Daniel Brumberg)
GOVT 532: Research Methods in Democracy and Governance (Prof. Elton Skendaj)
GOVT 550: Democracy Promotion (Prof. Georges Fauriol)
History and Theories of Democracy
GOVT 539: Electoral Violence: Analysis (Prof. Patrick Quirk)
GOVT 670: Sources of Nationalism (Prof. Charles A. Kupchan)
INAF 576: Liberal Democracy in Crisis (Prof. Thomas Zimmer)
GOVT 562: Conflict and Democracy (Prof. Elton Skendaj)
Democracy, Governance, and Institutions
GOVT 539: Electoral Violence: Analysis (Prof. Patrick Quirk)
GOVT 554: International Electoral Policy & Practice (Prof. Jeff Fischer)
GOVT 577: Corruption, Conflict, and Security (Prof. Frank Vogl)
GOVT 562: Conflict and Democracy (Prof. Elton Skendaj)
Democracy and Society
GOVT 444: Globalization and Autocracy (Prof. Daniel Brumberg)
GOVT 546: States and Societies in Latin America (Prof. Matthew Carnes)
GOVT 617: Social Movements and Nonviolent Resistance (Prof. Chantal Berman)
GOVT 670: Sources of Nationalism (Prof. Charles A. Kupchan)
INAF 648: International Migration & Development (Prof. Jennifer Wistrand)
Democracy, Governance, and Development Policy
GOVT 444: Globalization and Autocracy (Prof. Daniel Brumberg)
GOVT 577: Corruption, Conflict, and Security (Prof. Frank Vogl)
Regional Studies in Democracy
GOVT 446: Politics of North Africa (Prof. Stephen J. King)
GOVT 458: Arab Politics in Transition (Prof. Stephen J. King)
GOVT 546: States and Societies in Latin America (Prof. Matthew Carnes)
GOVT 646: Chinese Politics (Prof. Kristen Looney)
Other
GOVT 501: Analysis of Political Data (Prof. Mark Richardson)
GOVT 509: Human Security (Prof. Katherine Collin)
GOVT 570: Gender, International Security, & Development (Prof. Seniha Ayse Orellana)
GOVT 573: Human Rights and Conflict Resolution (Prof. Molly Jean Inman)
GOVT 587: Transitional Justice ( Prof. Charles Villa-Vicencio)
GOVT 594: Conflict Management Challenges in Africa (Prof. Charles Villa-Vicencio)
GOVX 508: Social Entrepreneurship for Social Change (Prof. Craig Zelizer)
GOVX 521: Thinking Strategically (Prof. Alysson Oakley)
GOVX 524: Cybersecurity & Conflict Resolution (Prof. Boyden Rohner)
GOVX 527: Humanitarian & Conflict Assessment (Prof. Elisabeth Kvitashvili)
GOVX 536: Gender & Security Toolbox (Prof. Karine Lepillez)
Spring 2021
Core Courses
GOVT 540: Program Design and Evaluation (Prof. Alysson Oakley)
GOVT 553: Comparative Political Institutions (Prof. Jennifer Dresden)
History and Theories of Democracy
GOVT 533: Authoritarianism & Hybrid Regimes (Prof. Meir Walters)
GOVT 548: USAID Study Group (Prof. Jeff Fischer)
GOVT 564: Comparative Democratization (Prof. Jennifer Dresden)
GOVT 645: Theories of Political Development (Prof. Daniel Brumberg)
Democracy, Governance, and Institutions
GOVT 533: Authoritarianism & Hybrid Regimes (Prof. Meir Walters)
GOVT 543: Governance and Stabilization Operations (Prof. Patrick Quirk
GOVT 548: USAID Study Group (Prof. Jeff Fischer)
GOVT 553: Comparative Political Institutions (Prof. Jennifer Dresden)
GOVT 560: Corruption and Governance (Prof. Jodi Vittori)
GOVT 567: Electoral Integrity (Prof. Jeff Fischer)
GOVT 628: Federalism & Intergovernmental Relations (Prof. William T. Gormley)

Democracy and Society
GOVT 413: Biopolitics, Religion, & Pandemic (Prof. Jocelyne Cesari)
GOVT 438: Polarization (Prof. Daniel Brumberg)
GOVT 688: Religious Morality & Contested Clams (Prof. Michael J. Kessler)
INAF 560: Ethnic Politics (Prof. Yuhki Tajima)
INAF 648: International Migration & Development (TBA)
Democracy, Governance, and Development Policy
GOVT 560: Corruption and Governance (Prof. Jodi Vittori)
INAF 392: Economics of Africa (Prof. Justin Sandefur)
Regional Studies in Democracy
GOVT 450: Politics of East & Central Europe (Prof. Kathleen Smith)
GOVT 455: Latin American Government and Politics (Prof. Diana Kapiszewski)
GOVT 516: The Future of Russia (Prof. Thane Gustafson)
GOVT 529: American Political Development (Prof. Colleen Shogan)
GOVT 643: Chinese Politics in Comparative Perspective (Prof. Kristen Looney)
GOVX 525: Politics of Human Rights in Latin America (Prof. Michael Reed-Hurtado)
INAF 533: Japan's Domestic Politics (Prof. Sheila Smith)
One-Credit Skills Courses
GOVX 513: Counter-Crisis Communications (Prof. Brett P. Bruen)
GOVX 523: Facilitation (Prof. Maria Jessop)
GOVX 524: Cyber Security & Conflict Resolution (Prof. Boyden Rohner)
GOVX 527: Humanitarian & Conflict Assessment (Prof. Elisabeth Kvitashvili)
GOVX 541: Policy Briefing (Prof. Patrick Quirk)
Other
GOVT 359: Islam and Democracy (Prof. Stephen J King)
GOVT 493: The Civil & Social Community (Prof. Thomas Michael Kerch)
GOVT 570: Gender, International Security, & Development (Prof. Seniha Ayse Orellana)
GOVT 633: Women and Leadership (Prof. Anne M. Cammisa)
CCTP 631: Misinformation and Society (Leticia Bode)
CCTP 799: Governing Emerging Technologies (Prof. Mark M. MacCarthy)

Fall 2020
Core Courses
GOVT 527: Democracy and Governance: Approaches & Topics (Prof. Daniel Brumberg)
GOVT 532: Research Methods in Democracy and Governance (Prof. Jennifer Dresden)
GOVT 550: Democracy Promotion (Prof. Georges Fauriol)
History and Theories of Democracy
GOVT 539: Electoral Violence: Analysis (Prof. Patrick Quirk)
GOVT 562: Conflict and Democracy (Prof. Jennifer Dresden)
Democracy, Governance, and Institutions
GOVT 539: Electoral Violence: Analysis (Prof. Patrick Quirk)
GOVT 562: Conflict and Democracy (Prof. Jennifer Dresden)
GOVT 567: Electoral Integrity (Prof. Jeff Fischer)
GOVT 577: Corruption, Conflict, and Security (Prof. Frank Vogl)
Democracy and Society
GOVT 444: Globalization and Autocracy (Prof. Daniel Brumberg)
GOVT 546: States and Societies in Latin America (Prof. Matthew Carnes)
GOVT 617: Social Movements and Nonviolent Resistance (TBA)
Democracy, Governance, and Development Policy
GOVT 444: Globalization and Autocracy (Prof. Daniel Brumberg)
GOVT 577: Corruption, Conflict, and Security (Prof. Frank Vogl)
GOVT 589: Development Responses to Political Violence (Prof. Daniel Weggeland)
Regional Studies in Democracy
GOVT 546: States and Societies in Latin America (Prof. Matthew Carnes)
GOVT 558: Pol of Energy Russia and Europe (Prof. Thane Gustafson)
GOVT 646: Chinese Politics (Prof. Kristen Looney)
Other
GOVT 501: Analysis of Political Data (Prof. Jonathan Ladd)
GOVT 509: Human Security (Prof. Katherine Collin)
GOVT 573: Human Rights and Conflict Resolution (Prof. Brian Kritz)
GOVT 594: Africa: Conflict Management Challenges ( Prof. Charles Villa-Vicencio
GOVX 508: Social Entrepreneurship for Social Change (Prof. Craig Zelizer)
GOVX 509: Skills for Fieldwork (Prof. Julie-Ayn Steiger)
GOVX 514: Routes to Resolve M.E. Conflict (Prof. Mara Rudman)
GOVX 521: Thinking Strategically (Prof. Alysson Oakley)
GOVX 538: Project Design (Prof. Elisabeth Kvitashvili)
Spring 2020
Core Courses
GOVT 540: Program Design and Evaluation (Prof. Alysson Oakley)
GOVT 553: Comparative Political Institutions (Prof. Jennifer Dresden)
GOVT 564: Comparative Democratization (Prof. Jennifer Dresden)
History and Theories of Democracy
GOVT 533: Authoritarianism & Hybrid Regimes (Prof. Meir Walters)
GOVT 548: USAID Study Group (Prof. Jeff Fischer)
GOVT 564: Comparative Democratization (Prof. Jennifer Dresden)
Democracy, Governance, and Institutions
GOVT 533: Authoritarianism & Hybrid Regimes (Prof. Meir Walters)
GOVT 548: USAID Study Group (Prof. Jeff Fischer)
GOVT 553: Comparative Political Institutions (Prof. Jennifer Dresden)
GOVT 560: Corruption and Governance (Prof. Jodi Vittori)
GOVT 628: Federalism & Intergovernmental Relations (Prof. William T. Gormley)
GOVT 677: Comparative Civil-Military Relations (Prof. Elizabeth Stanley)
Democracy and Society
GOVT 438: Public Opinion & Party Polarization (Prof. Jonathan Ladd)
GOVT 503: Intergroup Relations (Prof. Katherine Collin)
CCTP 610: Technology for Political Change (Prof. Irene Wu)
Democracy, Governance, and Development Policy
GOVT 560: Corruption and Governance (Prof. Jodi Vittori)
GOVT 589: Development Responses to Political Violence (Prof. Daniel Adrian Weggeland)
INAF 491: Business & Politics in Africa (Prof. Scott Taylor)
Regional Studies in Democracy
GOVT 450: Politics of East & Central Europe (Prof. Kathleen Smith)
GOVT 455: Latin American Government and Politics (Prof. Diana Kapiszewski)
GOVT 458: Arab Politics in Transition (Prof. Stephen King)
GOVT 516: The Future of Russia (Prof. Thane Gustafson)
GOVT 643: Chinese Politics in Comparative Perspective (Prof. Kristen Looney)
INAF 533: Japan's Domestic Politics (Prof. Sheila Smith)
INAF 548: Democratization in the Muslim World (Prof. Lily Rahim)
Other
GOVT 565: Mullen Seminar in Law (Prof. Ariel P. Eckblad)
GOVT 570: Gender, International Security, & Development (Prof. Seniha Ayse Orellana)
GOVT 597: Environment & Conflict Resolution (Prof. William E. Hall)
GOVT 633: Women and Leadership (Prof. Anne M. Cammisa)
GOVX 513: Counter-Crisis Communications (Prof. Brett P. Bruen)
GOVX 515: Skills for Navigating Confrontation (Prof. Joe Weston)
GOVX 517: Creating Alliances for Action (Prof. Sharona Shuster)
GOVX 523: Facilitation (TBA)
GOVX 524: Cyber Security & Conflict Resolution (TBA)
GOVX 541: Policy Briefing (Prof. Patrick Quirk)
Fall 2019
Core Courses
GOVT 532: Research Methods in Democracy and Governance (Prof. Jennifer Dresden)
GOVT 550: Democracy Promotion (Prof. Georges Fauriol)
GOVT 645: Theories of Political Development (Prof. Daniel Brumberg)
History and Theories of Democracy
GOVT 493: The Civil and Social Community (Prof. Thomas Michael Kerch)
GOVT 539: Electoral Violence: Analysis (Prof. Patrick Quirk)
GOVT 562: Conflict and Democracy (Prof. Jennifer Dresden)
GOVT 645: Theories of Political Development (Prof. Daniel Brumberg)
Democracy, Governance, and Institutions
GOVT 539: Electoral Violence: Analysis (Prof. Patrick Quirk)
GOVT 554: International Electoral Policy and Practice (Prof. Jeffrey Fischer)
GOVT 562: Conflict and Democracy (Prof. Jennifer Dresden)
GOVT 577: Corruption, Conflict, and Security (Prof. Frank Vogl)
Democracy and Society
GOVT 444: Globalization and Autocracy (Prof. Daniel Brumberg)
GOVT 544: Civil Society and Social Movements (Prof. Heba El-Shazli)
GOVT 546: States and Societies in Latin America (Prof. Matthew Carnes)
Democracy, Governance, and Development Policy
GOVT 444: Globalization and Autocracy (Prof. Daniel Brumberg)
GOVT 577: Corruption, Conflict, and Security (Prof. Frank Vogl)
Regional Studies in Democracy
GOVT 546: States and Societies in Latin America (Prof. Matthew Carnes)
GOVT 558: Pol of Energy Russia and Europe (Prof. Thane Gustafson)
GOVT 646: Chinese Politics (Prof. Kristen Looney)
GOVT 655: African Democracy and Governance (Prof. Elias Opongo)
Other
GOVT 501: Analysis of Political Data (Prof. Jonathan Ladd)
GOVT 580: Conflict Resolution Theory (Prof. Desha Girod)
GOVT 573: Human Rights and Conflict Resolution (Prof. Brian Kritz)
GOVT 588: Criminal Law and Conflict Resolution (Prof Brian Kritz)
GOVT 594: Growth and Extremism in Africa ( Prof. Charles Villa-Vicencio
GOVX 508: Social Entrepreneurship for Social Change (Prof. Craig Zelizer)
GOVX 509: Skills for Fieldwork (Prof. Julie-Ayn Steiger)
GOVX 514: Routes to Resolve M.E. Conflict (Prof. Mara Rudman)
Spring 2019
Core Courses
GOVT 540: Program Design and Evaluation (Prof. Alysson Oakley)
GOVT 553: Comparative Political Institutions (Prof. Josep Colomer)
GOVT 564: Comparative Democratization (Prof. Daniel Brumberg)
History and Theories of Democracy
GOVT 548: USAID Study Group (Prof. Jeff Fischer)
GOVT 564: Comparative Democratization (Prof. Daniel Brumberg)
Democracy, Governance, and Institutions
GOVT 543: Governance and Stabilization Operations (Prof. Patrick Quirk)
GOVT 548: USAID Study Group (Prof. Jeff Fischer)
GOVT 553: Comparative Political Institutions (Prof. Josep Colomer)
GOVT 560: Corruption and Governance (Prof. Jodi Vittori)
GOVT 627: Political Parties (Prof. Hans Noel)
Democracy and Society
GOVT 505-02: Life and Protest Under Authoritarianism (Prof. Meir Walters)
Democracy, Governance, and Development Policy
GOVT 560: Corruption and Governance (Prof. Jodi Vittori)
GOVT 589: Development Responses to Political Violence (Prof. Daniel Weggeland)
GOVT 592: Conflict Resolution and Development (Prof. Ayse Orellana)
Regional Studies in Democracy
GOVT 403: Democracy in Europe (Prof. Nuno Teixeira)
GOVT 446: Politics of North Africa (Prof. Stephen King)
GOVT 450: Politics of East & Central Europe (Prof. Kathleen Smith)
GOVT 455: Latin American Government and Politics (Prof. Diana Kapiszewski)
GOVT 643: Chinese Politics in Comparative Perspective (Prof. Kristen Looney)
Other
GOVX 501: Technology for International Crisis Response
GOVX 502: Advocacy Skills
GOVX 505: Social Media for Social Change
GOVX 513: Crisis Management
GOVX 515: Skills for Navigating Confrontation
GOVX 541: Policy Briefing
Fall 2018
Core Courses
GOVT 532: Research Methods in Democracy & Governance (Prof. Jennifer Dresden)
GOVT 550: Democracy Promotion (Prof. Georges Fauriol)
GOVT 645: Theories of Political Development (Prof. Daniel Brumberg)
History and Theories of Democracy
GOVT 493: The Civil & Social Community (Prof. Thomas Michael Kerch)
GOVT 539: Political Violence: Analysis (Prof. Patrick Quirk)
GOVT 562: Conflict and Democracy (Prof. Jennifer Dresden)
GOVT 645: Theories of Political Development (Prof. Daniel Brumberg)
Democracy, Governance, and Institutions
GOVT 545: Political Violence: Analysis (Prof. Patrick Quirk)
GOVT 567: Electoral Integrity (Prof. Jeffrey Fischer)
GOVT 562: Conflict and Democracy (Prof. Jennifer Dresden)
GOVT 577: Corruption, Conflict, & Security (Prof. Frank Vogl)
Democracy and Society
GOVT 444: Globalization and Autocracy (Prof. Daniel Brumberg)
GOVT 546: States & Societies in Latin America (Prof. Matthew Carnes)
GOVT563: Ethnicity, Race, and Nation (Prof. Charles King)
Democracy, Governance, and Development Policy
GOVT 444: Globalization and Autocracy (Prof. Daniel Brumberg)
INAF 491: Business and Politics in Africa (Prof. Scott Taylor)
GOVT 577: Corruption, Conflict, & Security (Prof. Frank Vogl)

Regional Studies in Democracy
GOVT 403: Democracy in Europe (Prof. Nuno Teixeira)
GOVT 458: Arab Politics in Transition (Prof. Stephen J. King)
GOVT 546: States & Societies in Latin America (Prof. Matthew Carnes)
GOVT 555: Post Communist Politics (Prof. Kathleen Smith)
GOVT 646: Chinese Politics (Prof. Kristen Looney)

Other
GOVT 501: Analysis of Political Data (Prof. Jonathan Ladd)
GOVT 573: Human Rights & Conflict Resolution (Prof. Molly Inman)
GOVT 583: Strategic Collaboration (Prof. Jessica Kritz)
GOVT 688: Religion, Morality and Contested Claims for Justice (Prof. Michael Kessler & Prof. Amy Uelmen)
GOVX 508: Social Entrepreneurship for Social Change (Prof. Craig Zelizer)
GOVX 509: Skills for Fieldwork (Prof. Julie-Ayn Steiger)
GOVX 514: Policing in Divided Societies (Prof. Eric Beinhart)
Spring 2018
Core Courses
GOVT 540: Program Design and Evaluation (Prof. Molly Hageboeck)
GOVT 553: Comparative Political Institutions (Prof. Josep Colomer)
GOVT 564: Comparative Democratization (Prof. Jennifer Dresden)
History and Theories of Democracy
GOVT 548: USAID Study Group (Prof. Jeff Fischer)
GOVT 564: Comparative Democratization (Prof. Jennifer Dresden)
Democracy, Governance, and Institutions
GOVT 543: Governance and Stabilization Operations (Prof. Patrick Quirk)
GOVT 548: USAID Study Group (Prof. Jeff Fischer)
GOVT 553: Comparative Political Institutions (Prof. Josep Colomer)
GOVT 560: Corruption and Governance (Prof. Jodi Vittori)
Democracy and Society
GOVT 444: Globalization and Autocracy (Prof. Daniel Brumberg)
INAF 560: Ethnic Politics (Prof. Yuhki Tajima)
Democracy, Governance, and Development Policy
GOVT 444: Globalization and Autocracy (Prof. Daniel Brumberg)
GOVT 560: Corruption and Governance (Prof. Jodi Vittori)
GOVT 592: Conflict Resolution and Development (Prof. Ayse Orellana)
Regional Studies in Democracy
GOVT 450: Politics of East & Central Europe (Prof. Kathleen Smith)
GOVT 455: Latin American Government and Politics (Prof. Diana Kapiszewski)
GOVT 557: Democracy in Africa (Prof. Jennifer Dresden)
GOVT 643: Chinese Politics in Comparative Perspective (Prof. Kristen Looney)
Other
GOVX 501: Technology for International Crisis Response
GOVX 502: Advocacy Skills
GOVX 512: Government Funding for International Development
GOVX 513: Crisis Management
GOVX 515: Skills for Navigating Confrontation
GOVX 541: Policy Briefing
Fall 2017
Core Courses
GOVT 532: Research Methods in Democracy & Governance (Prof. Jennifer Dresden)
GOVT 550: Democracy Promotion (Prof. Georges Fauriol)
GOVT 645: Theories of Political Development (Prof. Daniel Brumberg)
History and Theories of Democracy
GOVT 545: State Department Study Group (Prof. Patrick Quirk)
GOVT 562: Conflict and Democracy (Prof. Jennifer Dresden)
GOVT 645: Theories of Political Development (Prof. Daniel Brumberg)
GOVT 647: Global Justice (Prof. Desha Girod)
Democracy, Governance, and Institutions
GOVT 545: State Department Study Group (Prof. Patrick Quirk)
GOVT 554: International Electoral Policy and Practice (Prof. Jeffrey Fischer)
GOVT 562: Conflict and Democracy (Prof. Jennifer Dresden)
GOVT 577: Corruption, Conflict, & Security (Prof. Frank Vogl)
Democracy and Society
GOVT 444: Globalization and Autocracy (Prof. Daniel Brumberg)
GOVT 542: Civil Society in Emerging Democracies (Prof. Heba El Shazli)
GOVT 546: States & Societies in Latin America (Prof. Matthew Carnes)
Democracy, Governance, and Development Policy
GOVT 444: Globalization and Autocracy (Prof. Daniel Brumberg)
GOVT 577: Corruption, Conflict, & Security (Prof. Frank Vogl)
INAF 487: Practice and Ethics in Global Development (Prof. Katherine Marshall)
Regional Studies in Democracy
GOVT 458: Arab Politics in Transition (Prof. Stephen J. King)
GOVT 546: States & Societies in Latin America (Prof. Matthew Carnes)
GOVT 555: Post Communist Politics (Prof. Kathleen Smith)
GOVT 566: Politics of Cuba (Prof. Marguerite R. Seldin Jimenez)
Other
GOVT 501: Analysis of Political Data (Prof. Jonathan Ladd)
GOVT 573: Human Rights & Conflict Resolution (Prof. Molly Inman)
GOVT 688: Religion, Morality and Contested Claims for Justice (Prof. Michael Kessler & Prof. Amy Uelmen)
GOVX 506: Strategic Collaboration (Prof. Jessica Kritz)
GOVX 508: Social Enterprise for Social Change (Prof. Craig Zelizer)
GOVX 509: Skills for Fieldwork (Prof. Julie-Ayn Steiger)
Spring 2017
Core Courses
GOVT 449: Political Institutions (Prof. Josep Colomer)
GOVT 532: Research Methods in Democracy & Governance (Prof. Jennifer Dresden)
GOVT 564: Comparative Democratization (Prof. Jennifer Dresden)
History and Theories of Democracy
GOVT 533: Authoritarianism & Hybrid Regimes (Prof. Meir Walters)
GOVT 545: State Department Study Group (Prof. Patrick Quirk))
GOVT 548: USAID Study Group (Prof. Jeff Fischer)
GOVT 564: Comparative Democratization (Prof. Jennifer Dresden)
Democracy, Governance, and Institutions
GOVT 449: Political Institutions (Prof. Josep Colomer)
GOVT 533: Authoritarianism & Hybrid Regimes (Prof. Meir Walters)
GOVT 545: State Department Study Group (Prof. Patrick Quirk))
GOVT 548: USAID Study Group (Prof. Jeff Fischer)
GOVT 560: Corruption and Governance (Prof. Jodi Vittori)
Democracy and Society
GOVT 546: States & Societies in Latin America (Prof. Matthew Carnes)
INAF 560: Ethnic Politics (Prof. Yuhki Tajima)
Democracy, Governance, and Development Policy
GOVT 560: Corruption and Governance (Prof. Jodi Vittori)
GOVT 592: Conflict Resolution and Development (Prof. Ayse Orellana)
INAF 491: Business & Politics in Africa (Prof. Scott Taylor)
Regional Studies in Democracy
GOVT 450: Politics of East & Central Europe (Prof. Kathleen Smith)
GOVT 455: Latin American Government and Politics (Prof. Diana Kapiszewski)
GOVT 458: Arab Politics in Transition (Prof. Stephen King)
GOVT 465: Politics of North Africa (Prof. Stephen King)
GOVT 546: States & Societies in Latin America (Prof. Matthew Carnes)
Other
GOVX 501: Technology for Social Change
GOVX 502: Advocacy Skills
GOVX 512: Government Funding for International Development
GOVX 513: Crisis Management
GOVX 541: Policy Briefing
GOVX 570: Making Decisions During Conflict
Fall 2016
Core Courses
GOVT 540: Program Design and Evaluation (Prof. Molly Hageboeck)*
GOVT 550: Democracy Promotion (Prof. Georges Fauriol)*
GOVT 564: Comparative Democratization (TBD)
History and Theories of Democracy
GOVT 452: Third World Politics (Prof. Daniel Brumberg)
GOVT 481: Dem. Diplomacy and Rule of Law (Prof. Richard Boyd)
Democracy, Governance, and Institutions
GOVT 493: Constitutions (Prof. Shannon Stimson)
GOVT 552: Electoral Violence (Prof. Jeffrey Fischer)
GOVT 562: Conflict and Democracy (Prof. Jennifer Dresden)*
GOVT 677: Civil-Military Relations (Prof. Elizabeth Stanley)
Democracy and Society
GOVT 544: Civil Society and Social Movements (Prof. Heba el Shazli)
Democracy, Governance, and Development Policy
GOVT 653: Politics of Economic Reform (Prof. Daniel Brumberg)*
GOVT 656: Economics for the Study of Politics (Prof. Jenny Rodriguez)
INAF 487: Practice and Ethics in Global Development (Prof. Katherine Marshall)
Regional Studies in Democracy
GOVT 452: Third World Politics (Prof. Daniel Brumberg)
GOVT 546: States and Society: Latin America (Prof. Matthew Carnes)
GOVT 555: Post Communist Politics (Prof. Kathleen Smith)
GOVT 557: Democracy in Africa (Prof. Jennifer Dresden)
Other
GOVT 501: Analysis of Political Data (Prof. Jonathan Ladd)
GOVT 579: Research Design and Conflict Resolution (Prof. Molly Inman)*
GOVT 601: Qualitative Data Lab (Prof. Diana Kapiszewski)
GOVX 505: Social Media for Social Change (Prof. Aaron Sherinian)**
GOVX 506: Strategic Collaboration (Prof. Jessica Kritz)**
GOVX 507: Philanthropy and Fundraising (Prof. Alexandra Toma)*
GOVX 508: Social Entrepreneurship (Prof. Craig Zelizer)**
GOVX 509: Skills for Fieldwork (TBA)*
*Evening Course
**Weekend Course
---