Democracy & Governance Student Research Symposium
We are excited to announce that the annual Democracy and Governance Student Research Symposium will return on Wednesday, March 20th, 2024 from 6-8PM EST.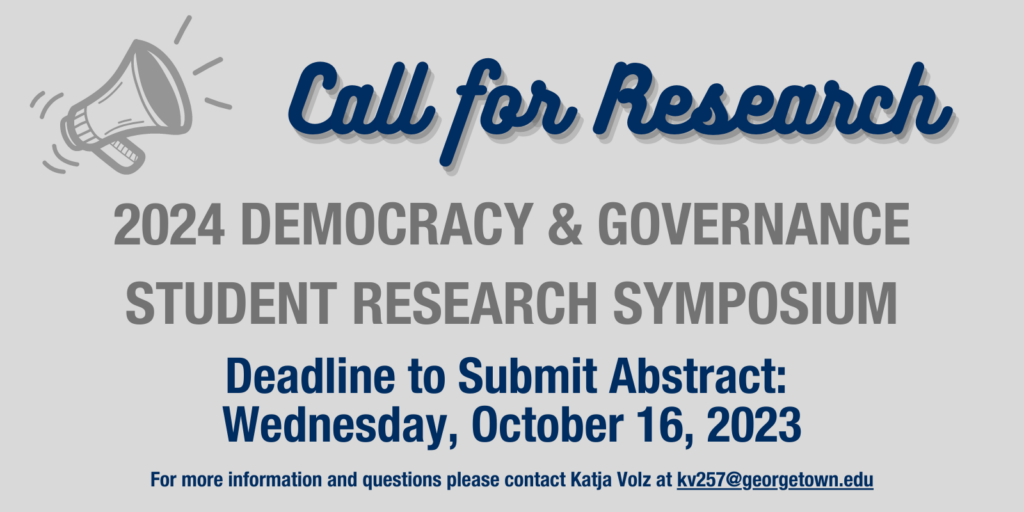 Overview
The annual Democracy and Governance Student Research Symposium will take place on March 20th, 2024 at Georgetown University. Hosted by the Center for Democracy and Civil Society, the symposium is an opportunity for graduate students from D.C., Maryland, and Virginia (DMV) universities who are focused on democracy and governance to present their independent research and projects, gain practical experience, and connect with established and young professionals in the field.
Framework
Students interested in presenting their work are required to submit an abstract for review. Research is not required to be final for the initial application and preliminary research is welcome. Students are expected to have finished their research by the date of the symposium. The top findings based on merit will be included in the symposium. Once decisions are made, students will be notified and those who have been accepted will be expected to create a poster of their findings to be displayed and presented during the event.
Research Submission Guidelines
If you are interested in submitting your research or project for review, please read the guidelines below for further information on eligibility and logistics.
You must be a current graduate student (MA, MS, MPP, MPA, and 1st/2nd year PhD), part-time or full-time, at a DMV area university. Please reach out to us if you are interested in submitting your work but do not attend a university in the DMV area. We are happy to review your work, but are unable to provide travel and lodging accommodations for those attending from outside of the district.
The research you are submitting must have a clear and definite connection to the field of democracy and governance. Work from non-traditional or intersectional disciplines are welcome and encouraged to apply.
Your work must be original, relevant and contain elements of looking towards the future of democracy.
Deadlines
Applications Due: October 16th, 2023*
*Students will be notified by November 1, 2023 if their preliminary work is accepted
Final Research Due: January 22, 2024
---
Presentations from previous years:
For All Presenter and Poster Information, Click Here:
How to Rig an Election: Typologies of Malign Foreign Electoral Interference
Presenters: Adnan Basheer, Leesa Danzek, Sohila Hassan, Shakira Jackson, Mason Kane, Ruwaidah Maudarbux, Owen Myers, Maja Ochojska with support from Adjunct Professor and CDACS Senior Fellow Jeffrey Fischer
Affiliation: USAID Study Group, Georgetown University
Does Rank Choice Voting Increase Voter Turnout for Younger Generations?
Presenter: Timothy McLaughlin
Program: MA Political Science, American University
Repowering Americans: A Decentralized Approach Towards Energy Generation
Presenter: Victoria Glasgow
Program: MA Public Policy, George Mason University
Democracy 2.0: Resilience and Adaptability Built on the Neuroscience of Feeling
Presenter: Max Henning
Program: MA Democracy & Governance, Georgetown University 
Obstacles to Youth Participation in the Democratic Process and Good Governance in Lebanon
Presenter: Yara Doumit
Program: MA International Development Policy, Georgetown University
Ukraine LGBTQIA+ Civil Society Resiliency in the Russia-Ukraine War
Presenter: Jo Desmone
Program: German and European Studies, Georgetown University
Re-evaluating Abioye: The Connection Between Constitutions and Governance Outcomes
Presenter: Daniel Lee
Program: PhD African Studies, Howard University
Isolation, Distrust, and Perceived Threat: What Makes the Right in U.S. Politics
Presenter: Kyle Kim
Program: Communication, Culture, and Technology, Georgetown University
Do No Harm: U.S. Contribution to Terrorism in Iran
Presenter: Christian Coleman
Program: MA Political Science, American University