Careers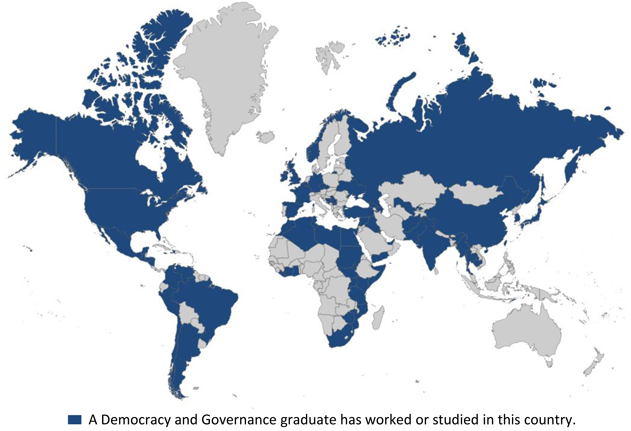 Situated in Washington, D.C., Georgetown University's Master of Arts in Democracy and Governance offers students the opportunity to pursue internships and employment opportunities relevant to their coursework. Students can receive up to six (6) academic credits through research tutorials designed to synthesize the workplace experience with program coursework.
More than 75 percent of Democracy and Governance students intern or work full-time for the federal government, non-profit organizations, consulting firms, and think tanks.
Career Services
The Democracy and Governance Program works with the Walsh School of Foreign Service Career Development Center and its career advisers to help students identify and obtain internships and careers relevant to their studies and interests.
Employers
To date, students and graduates have interned or obtained full-time employment with the following organizations:
ACE Electoral Knowledge Network
American Bar Association (ABA) Rule of Law Initiative
American Democracy Institute: Impact Center
Atlantic Media Company/The Atlantic
Business & Strategies in Europe (B&S Europe)
Center for International Private Enterprise
Center for Strategic and International Studies (CSIS)
Council on American-Islamic Relations (CAIR)
Creative Associates International
Development Alternatives, Inc. (DAI)
Department of Homeland Security (DHS)
European Foundation for Democracies
Federal Bureau of Investigation (FBI)
Foreign Policy Research Institute
Inter-American Development Bank (IADB)
International Center for Not-for-Profit Law
International Foundation for Electoral Systems (IFES)
International Fund for Agricultural Development (IFAD)
International HIV/AIDS Alliance
International Institute for Democracy and Electoral Assistance (International IDEA)
International Republican Institute (IRI)
Johns Hopkins School of Advanced International Studies (SAIS)
Management Systems International (MSI)
McCain 2008 Presidential Campaign
Morgan Stanley Capital International (MSCI)
National Counterterrorism Center
National Democratic Institute (NDI)
National Endowment for Democracy (NED)
Netherlands Institute for Multiparty Democracy
Obama 2008 Presidential Campaign
Organization for Economic Cooperation and Development (OECD)
Price Waterhouse Coopers (PwC)
Project on Middle East Democracy (POMED)
Romney 2012 Presidential Campaign
United Nations Development Programme (UNDP)
United States Agency for International Development (USAID)
United States Department of Commerce
United States Department of State
United States House of Representatives
United States Institute of Peace (USIP)
Westminster Foundation for Democracy
Woodrow Wilson International Center for Scholars
Other Job Opportunities
ACE Electoral Knowledge Network
Electoral Reform International Services (ERIS)
International Institute for Democracy and Electoral Assistance (IDEA)