News and Events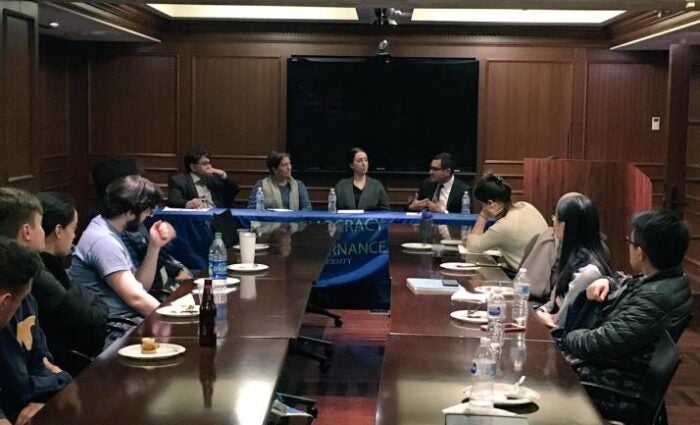 The Democracy and Governance Program frequently hosts and sponsors events that bring together prominent scholars, political activists, and policymakers. For information about the full range of events offered by Georgetown University click here.
---
Upcoming Events
Book Talk: Classless Politics: Islamist Movements, the Left, and Authoritarian Legacies in Egypt
The Center for Contemporary Arab Studies (CCAS) and the MA Program in Democracy and Governance are pleased to invite you to a talk by Dr. Hesham Sallam, who has just published his book, Classless Politics: Islamist Movements, the Left, and Authoritarian Legacies in Egypt (Columbia University Press). A cutting-edge study, his book probes the relationship between neoliberal economics and Islamist politics in Egypt that sheds new light on the worldwide trend of "more identity, less class." This talk will examine why Islamist movements have gained support at the expense of the left, even amid conflicts over the costs of economic reforms. Dr. Sallam is a Research Scholar at Stanford University's Center on Democracy, Development and the Rule of Law, where he serves as the Associate Director of the Program on Arab Reform and Democracy. He holds a PhD from the Department of Government at Georgetown University, where he also obtained his MA from the CCAS. Chairing the presentation will be Dr. Daniel Brumberg, Senior Advisor to the D&G Program and Dr. Sallam's Dissertation Advisor. Please join us for what promises to be a lively and insightful discussion!
Register here. A light lunch will be served.
Date: November 11
Time: 12:00pm-1:30pm
Location: Intercultural Center (ICC) CCAS Boardroom
Audience: Students, Faculty, Staff, Alumni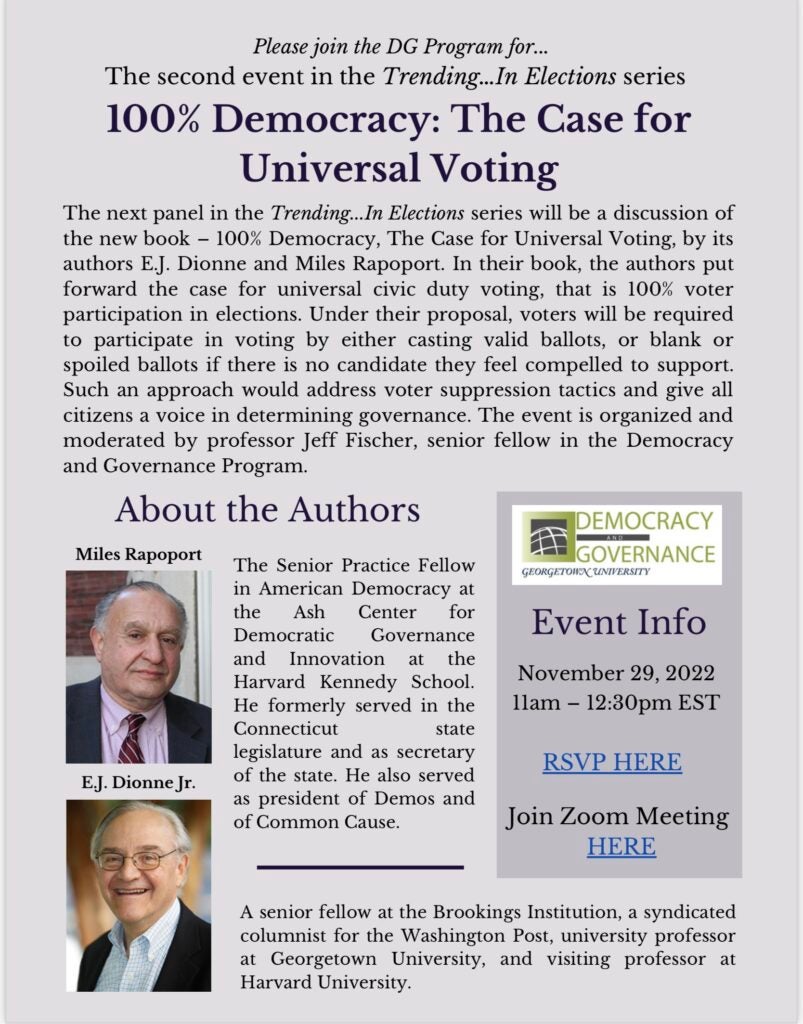 Recent Events
Democracy and Governance Career Panel, 28th October- Considered the "state of the field" against the backdrop of the wider question of US foreign engagement and the challenge of democracy assistance after the US withdrawal from Afghanistan.
Democracy Promoter, Come Home, 21st April, 12pm- A panel discussion highlighting how international experience informs the work of democracy reform and revitalization in the United States
The Panorama of Religious Freedom and Practice in Cuba (new window), Monday, March 15, 2021- 11:30am ET
Georgetown Town Hall: How Can We Turn Back the Hands of the Doomsday Clock? The D&G program is pleased to co-sponsor a special event featuring former UN Secretary-General Ban Ki-moon, former Irish President and UN High Commissioner for Human Rights Mary Robinson, former Governor of California Jerry Brown, and the President and CEO of The Bulletin of the Atomic Scientists Rachel Bronson. Thursday, January 23rd, 2021 4:00pm
Government Department B.A./M.A. Programs Info Session (new window)
Wednesday, October 28th, 2020 – 2:00pm ET
2020 Democracy & Governance Career Panel (new window)
Tuesday, October 20th, 2020 – 5:00pm ET
The Challenges of Governance in Conflict Zones
An event with Libyan National Oil Corp. Chairman Mustafa Sanalla. October 17th, 2019 12:00pm – 1:30pm
Government Department M.A. Programs Info Session (new window)
Wednesday, October 7th, 2020 – 2:00pm ET
Georgetown Town Hall: How Can We Turn Back the Hands of the Doomsday Clock?
Thursday, January 23rd, 2020
Book Talk with Larry Diamond
Wednesday, November 6th 2020, 3:00pm
The Challenges of Governance in Conflict Zones:
An event with Libyan National Oil Corp. Chairman Mustafa Sanalla
Thursday, October 17th 2020, 12:00pm
Democracy & Governance Career Panel
Thursday, October 24th, 2019 5:30pm