News and Events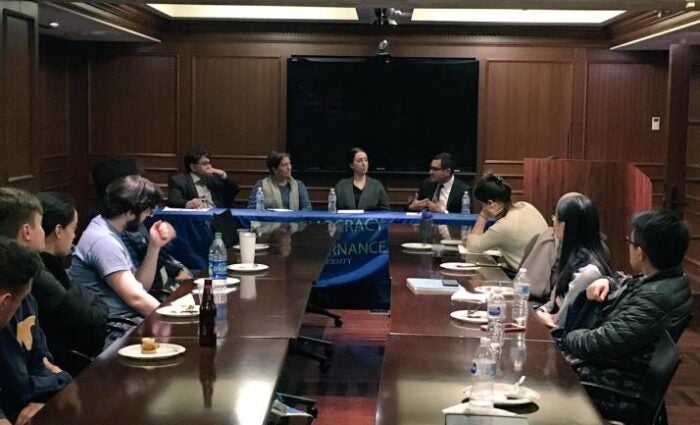 The Democracy and Governance Program frequently hosts and sponsors events that bring together prominent scholars, political activists, and policymakers. For information about the full range of events offered by Georgetown University click here.
---
Upcoming Events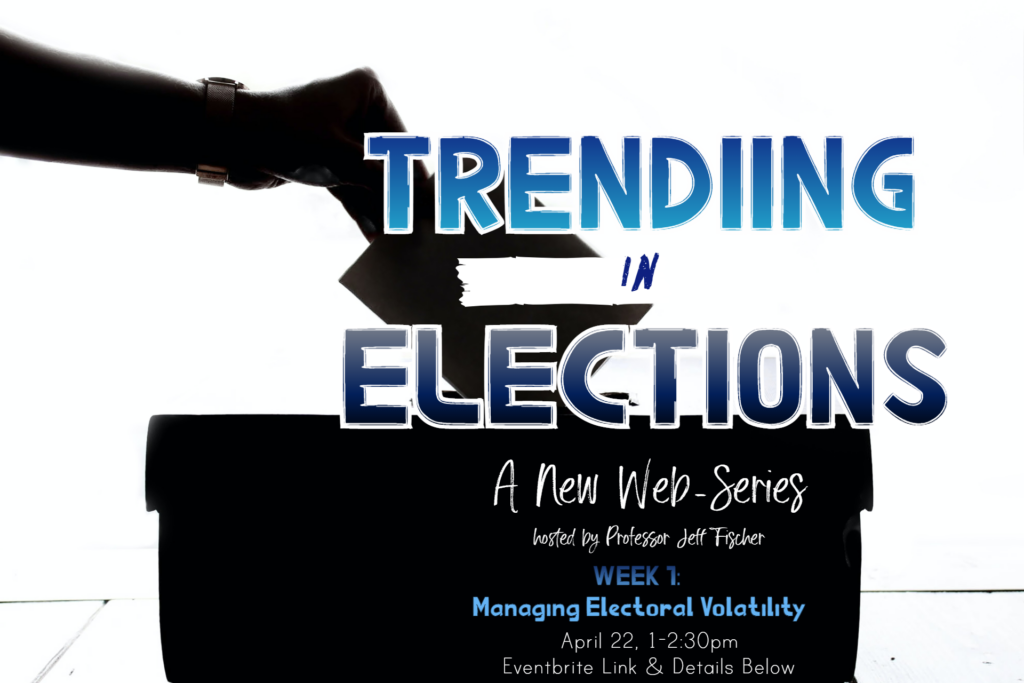 Details
This webinar is the first in a series entitled Trending…In Elections will feature discussions on current issues and challenges emerging in electoral processes. The topic in focus for this webinar is Managing Electoral Volatility. Since 2016, new dynamics have emerged in elections which have made them the targets of attack on their integrity and viability. The purpose of this webinar is to examine three such volatilities and discuss their impact on upcoming elections in 2022 and 2024. First, Katie Harbath of AnchorChange will discuss the impact of technologies and disinformation on elections and perception about elections, and steps undertaken to manage this impact. Second, Steven Martin of the United Nations Electoral Assistance Division (see below) will discuss electoral volatility from a global perspective and its impact on international electoral assistance programming. And, third, Michael Scholtens of The Carter Center (see below) will conclude with a discussion on how volatilities impact election observation and monitoring, both in terms of scope activities to be monitored and techniques to monitor these new volatilities and their impact. Their presentations will be followed by a period of discussion and questions.
The webinar will be hosted by Jeff Fischer, Adjunct Lecturer in the Democracy and Governance Program (Faculty and Fellows | Department of Government | Georgetown University (new window)).
Click here for the eventbrite link to sign up!
Panelists
Katie Harbath
Katie Harbath is a global leader at the intersection of elections, democracy, and technology. As the chief executive of Anchor Change (new window), she helps clients think through tech policy issues. She is the director of technology and democracy for the International Republican Institute and is also a fellow at the Bipartisan Policy Center (new window), the Integrity Institute (new window), and a nonresident fellow at the Atlantic Council (new window). Katie spent ten years at Facebook. As a director of public policy, she built and led global teams that managed elections and helped government and political figures use the social network to connect with their constituents. Before Facebook, Katie held senior strategic digital roles at the Republican National Committee, the National Republican Senatorial Committee, DCI Group, and multiple campaigns.
Steven Martin (Canada)
Steven is an election expert with more than 15 years of international experience with the UN, OSCE/ODIHR, and IFES, among others, working in the Middle East/North Africa, Europe, and Central Asia, including in post-conflict environments. Steven has been involved in a range of electoral support activities, from election observation to providing advice to election management bodies and implementing a range of electoral assistance programmes. Currently, he works as an Electoral Affairs Officer in the Policy Unit of the Electoral Assistance Division, Department of Political and Peacebuilding Affairs.
Michael Scholtens
Michael Scholtens is a Data Analyst with the Carter Center's Digital Threats to Democracy Initiative. He previously worked on the Syria Conflict Mapping Project and on election observation projects in Liberia, Sierra Leone, Kenya, Zimbabwe, DRC, Guyana, and South Africa. He holds bachelor's degrees in political science and history from Furman University, a Master's of Science in international relations of the Middle East from the University of Edinburgh, and is currently pursuing a Master's of Science in analytics from the Georgia Institute of Technology.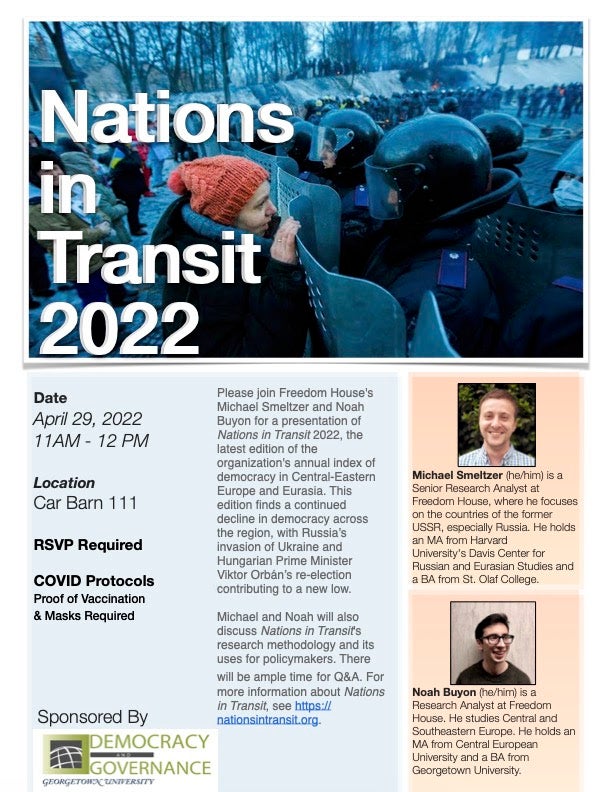 RSVP for the Eventbrite link here
Recent Events
Democracy and Governance Career Panel, 28th October- Considered the "state of the field" against the backdrop of the wider question of US foreign engagement and the challenge of democracy assistance after the US withdrawal from Afghanistan.
Democracy Promoter, Come Home, 21st April, 12pm- A panel discussion highlighting how international experience informs the work of democracy reform and revitalization in the United States
The Panorama of Religious Freedom and Practice in Cuba (new window), Monday, March 15, 2021- 11:30am ET
Georgetown Town Hall: How Can We Turn Back the Hands of the Doomsday Clock? The D&G program is pleased to co-sponsor a special event featuring former UN Secretary-General Ban Ki-moon, former Irish President and UN High Commissioner for Human Rights Mary Robinson, former Governor of California Jerry Brown, and the President and CEO of The Bulletin of the Atomic Scientists Rachel Bronson. Thursday, January 23rd, 2021 4:00pm
Government Department B.A./M.A. Programs Info Session (new window)
Wednesday, October 28th, 2020 – 2:00pm ET
2020 Democracy & Governance Career Panel (new window)
Tuesday, October 20th, 2020 – 5:00pm ET
The Challenges of Governance in Conflict Zones
An event with Libyan National Oil Corp. Chairman Mustafa Sanalla. October 17th, 2019 12:00pm – 1:30pm
Government Department M.A. Programs Info Session (new window)
Wednesday, October 7th, 2020 – 2:00pm ET
Georgetown Town Hall: How Can We Turn Back the Hands of the Doomsday Clock?
Thursday, January 23rd, 2020
Book Talk with Larry Diamond
Wednesday, November 6th 2020, 3:00pm
The Challenges of Governance in Conflict Zones:
An event with Libyan National Oil Corp. Chairman Mustafa Sanalla
Thursday, October 17th 2020, 12:00pm
Democracy & Governance Career Panel
Thursday, October 24th, 2019 5:30pm